Sitter, Painter, Viewer - the Triangle of Portraiture
It is perhaps no surprise in the current times that many of this summer's London Art Week participants have chosen to include portraits in their exhibition or theme their presentation to focus on the human face and form. Why do they value portraits so highly?  And why is portraiture as important as ever? Here we highlight many interesting portraits included in LAW Digital 2020, and our dealers share some discovery stories from their career. Lastly, we ask them to share their all-time favourite portrait in a museum.
The Covid-19 crisis has certainly influenced the art trade - dealers and auction house specialists have been separated from the works they may originally have wanted to include in London Art Week, while spending far more time at home than usual, living in isolation away from their galleries and unable to visit museums (which many dealers do a great deal of). It meant that some changed their planned exhibitions, with faces of our fellow beings becoming a focal point. 
Matthew Reeves at Sam Fogg, says: "At the gallery we spend pretty much every waking moment of our days thinking about art and enjoying the succour it gives us - a very privileged position to be in! But our sacrifice has been that we are cut off from the objects that mark our days and the museums and galleries that house and look after them. So I came up with 'Medieval Faces' as a way of restarting our engagement with the objects we love even if it has to be at a distance. It is a show about human contact, at a time when we still are not allowed much of this. Being able to look into the eyes of a face not dissimilar to ours, and which was carved, painted, or drawn 600 years ago, can't collapse this new geographical distance we are having to negotiate in our lives, but it is very good at collapsing time."
Andreas Pampoulides of Lullo • Pampoulides describes the origin of his gallery's exhibition In Silent Conversation: Portraits from the 16th to the 20th Centuries: "It grew from the realisation that we had unconsciously collected quite a number of powerful, emotionally-charged portraits and we wanted to promote the idea of the friendships and conversations we can have with these images of people during a period of imposed isolation and social distancing." 
Galleria Carlo Virgilio & C. has a well-established love of the portrait and this summer's exhibition is the fourth in a series of Faces, while The Weiss Gallery, a specialist in historical portraits, chose to look at their collection of child portraits in particular. Florence Evans explains: "Times are more uncertain today than we have ever experienced in our own lifetime, and we worry about the future of our children. Perhaps this is more in tune with the fears and hopes our ancestors might have had for their own offspring."
All the dealers we spoke to agreed that portraits have always held a special fascination for them. Andreas Pampoulides is drawn to two aspects in particular - beauty and psychological intensity: "I find it difficult to have an intimate connection with, for example, a state portrait as I often find it very one-dimensional, however, when I see a portrait that displays what I consider to be beauty, or a complex, intense and formidable character, I am obsessively driven to own it."    
Galleria Carlo Virgilio & C. is presenting faces of men and women, in paintings and sculpture, but the physical look of the sitter is of less importance: the exhibition is about how successful the portraitist has been to examine and capture the weight of the sitters' feelings, their state of mind, and their psychology.
Davide Trevisani of Maurizio Nobile agrees that "the portrait is not only about the effigy, the history and the trace of a person who really existed; it is not only about preserving the sign of the earthly passage of an individual, but a very complex dialogue between the three subjects that are involved in it - the portrayed, the artist and the observer." He adds "the portrait is not just the memory of a face, of an existence, but the result of a harmony between the interpretation that the artist gives of the portrayed psychology and appearance, and the way in which the portrayed would like to be represented. The portrait is therefore a harbinger of a much more articulated semantic message than simply an extreme technical and stylistic exercise, and this is its fascination."
How the sitter wants to be portrayed and what it says about that person's social standing is often reflected in what they are wearing, an element Florence Evans finds particularly fascinating: "I adore historical costume, so I'm always drawn to the clothing in portraits - the breath-taking artistry involved in convincingly depicting finery - the intricacy of lace, the soft sheen of silk, the gleam of a jewel or an individual stitch of embroidery."
Finding out about the actual person in the portrait is usually one of the most exciting parts for the specialist researching a newly-purchased work. Stefano Grandesso of Carlo Virgilio & C. explains:  "When you know very little about the sitter, research becomes riveting, it's like an exciting game. For this exhibition we have been identifying the futurist poet Alberto Presenzini Mattioli, portrayed by Gerardo Dottori (1884-1977) in 1912 (and again in the 1920s). We particularly like self-portraits, and in this exhibition the one by Milanese artist Vanni Rossi (1894-1973), where the artist depicts himself in the guise of beauty that is suffering from idealism (and perhaps some sort of physical ailment), that is truly singular." Other highlights in the gallery's exhibition include the false pretences of a romantically pensive, semi-nude youth, the crisp self-portrait by Giulio Bargellini (1875-1936), in the painting Idyll, painted in 1892/95 and the highly communicative self-portrait by Galileo Chini, with his mature composure surrounded by geometric shapes, the easel, palette and canvases; the artist also includes the proud written record certifying that he is the Florentine painter and ceramicist.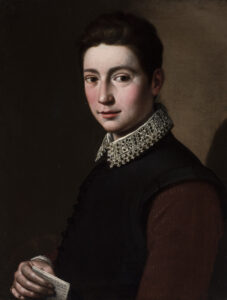 Davide Trevisani remarks that Maurizio Nobile has made many great discoveries in the past, including an unpublished portrait of a young man by Lavinia Fontana (1552-1614).  More recently they identified a portrait of Giovan Antonio Berlendis as an extraordinarily rare work by the Lombard painter Giovanni Paolo Lolmo (c. 1550-1593) and discovered it was once in the collection of the Grand Duke Peter II of Ondelburg and had been considered to be by Giovanni Battista Moroni. Among the highlights in Maurizio Nobile's LAW presentation this summer is a two-handed work by Gregorio Pagani (1558-1605) and Cristofano Allori (1577-1621). It is the portrait of Agnolo di Lorenzo dei Favilla aged eighteen; they were able to trace the baptismal deed preserved in the archives of the Opera del Duomo of Florence. An illustrious Florentine citizen, notary by profession, he was the author of the "Rhymes for the Royal Wedding of the Most Serene Prince of Tuscany Cosimo De Medici and Maria Maddalena of Austria", printed in 1608 on the occasion of the grand-ducal celebration.
Florence Evans of The Weiss Gallery remembers that when, a few years ago, they had a small, slightly frumpy Tudor portrait of a very pallid young noblewoman, she felt that there was something eerie about her that captured the imagination. When they discovered it was an ad vivum likeness of Henry VIII's third wife, Jane Seymour (c. 1508 - 1537) - mother to his only legitimate and much longed for son, Edward VI - it was a spine-tingling moment. This summer's exhibition includes "a Tudor portrait of a young boy holding a bow and arrow, painted in 1596, from the Studio of Robert Peake. It is a great example of parental aspirations invested in a child. In the distance, we can see a small hunting scene and a white hart (stag), as well as a statue of Diana. This little boy, ready to join the hunt with his bow and arrow, fashionably dressed in red and white silks, already bears all the chivalric and courtly attributes of the young nobleman his parents hoped he would become."
Andreas Pampoulides says: "The discovery that I am most proud of is a portrait in my current exhibition - but which normally hangs at home! - by the little-known but absolutely fantastic early 20th century Italian painter, Gino Parin. It depicts his muse and lover, the poetess, Fanny Tedeschi and has everything that I love in a portrait: an unconventional beauty, nobility, dignity and psychological intensity. Parin came from Trieste but spent time in Munich and Vienna, so this portrait draws elements from the works of Frans von Stuck, Fernand Khnopff and Gustav Klimt. The portrait tells a story of two Jewish artists living, creating and loving during an increasingly difficult socio-political time in 1920s Italy. Fanny died the year after Gino painted this portrait and Gino himself died in a concentration camp in 1944. I think that the dramatic, abstract and almost apocalyptic background somehow reflects their growing unease of living at that time. So the painting tells a tragic but also a very beautiful and poignant story." Another highlight this summer has to be the beautifully painted and utterly timeless mid-17th century portrait of a man in armour by the German painter Johann Heinrich Schönfeld. "It's not your conventional 17th century portrait: it is dark and contemplative, and given its off-balance composition, where the sitter leans to the edge of the canvas while looking away from the viewer, it is very dynamic and modern."
Matthew Reeves points out two highlights in the exhibition at Sam Fogg: their centrepiece, a sandstone plate carved with the severed head of Saint John the Baptist resting in its depression, and two monumental wooden heads carved for processional figures in thirteenth-century Spain. "We acquired the carved heads from the descendants of the celebrated historian of Aragonese art Josep Gudiol, who created a small but extremely refined collection of Spanish art in the early part of the twentieth century. The heads were carved in Leon in north-western Spain by the same sculptors working on the portal sculpture for the city's cathedral in the 1270s-90s. These artists were very likely French, or had come into close contact with French sculpture at Amiens for instance, and were inflecting their work in northern Spain with an incredibly Francophone language. Almost no Spanish monumental wood sculpture survives from the thirteenth century, making them of extreme rarity and significance."
Olivia Ghosh of Christie's selects a personal favourite in Christie's current 'Face Time: People in Art Through the Ages', which runs until the 23rd June, of a marble relief portrait of Princess Amalie von Baden (1754-1832) executed by the sculptor Philipp Jakob Scheffauer in 1803. "The aesthetic roots of the work can be traced back to the profile portraits on Greco-Roman coins, through to the resurgence of these in the Renaissance and into the 19th Century, so it really is a work that encapsulates the arc of portrait history. As well as this, Princess Amalie was a very intelligent and caring woman, who used her influence to further the relationships between European nations. This duality makes this an interesting highlight of the sale."
A primary object of painting since ancient times is the human figure in action; the high point of the expression of the feelings and passions of the soul is the portrait. This summer's London Art Week will be a delight for anyone who collects portraits or is considering adding a portrait to their collection. There is no doubt that portraiture is viewed as a niche collecting field: the principle of only to buy what you really like and feel you have a connection with applies even more when it comes to this genre.
Florence Evans puts it well: "Having a portrait - another person - on your wall is very personal, and it opens up your imaginative world. Who was this person, why were they painted, why have they chosen to wear those clothes? What story are they trying to tell you? Who has lived with this picture before you?"
Andreas Pampoulides agrees: "You either like the idea of living with a portrait or you don't. My wife doesn't particularly, but I value the friendships I have struck up with the portraits I own and I am captivated by the intimacy with which the one's I've chosen have been painted. I will choose to live with a particular portrait because I have an attraction to the sitter or to their story. Finding one is a bit like meeting someone for the first time that you will come to love. It also fascinates me that portraits can tell us as much about the past as they can about the sitter's life and of the artist that created it."
Olivia Ghosh brings this to the point: "Portraiture connects us to people and their stories across time.  Portraits act as a bridge between us and those who experienced a different world, who built the world as we now know it - for good or for bad, who will remain tantalisingly out of reach and yet visually within our grasp. They are endlessly fascinating. To buy and live with a portrait is to engage with this history and beauty on a daily basis.  What more could you want!"
Carlo Virgilio explains that "a good portrait, to be such, does not just give an accurate definition of facial features, but gathers the mute communication behind those traits too. Given that premise, collectors' interest in portraiture of quality seems quite natural. Besides, man, by definition a social animal, finds a response to his own presence here in this world precisely in his relationship with his counterparts - even with those immortalised in fine painting."
Davide Trevisani believes that it is "usually an experienced collector who starts to take an interest in portraits in the later stage of his 'career'. As there is usually a lower interest in this genre you can make deals and discoveries, enabling you to create a good collection of high standard works without spending too much."
Andreas stresses that "the importance of - and interest in - portraiture is as strong as it has ever been, even if it has evolved massively in the last 20 years. We live in an 'instagramable' world where people are constantly uploading to social media photos of themselves or their family and friends. We are obsessed by our individual conceptions of beauty and of personality. Obviously you may question whether any of this is art but I don't think that's the point; if a seasoned art historian or a teenager can have a meaningful experience from looking at a portrait whether painted, sculpted or photographed then that has to be one of the main points of art."  Florence agrees: "Photography has changed the way we look at portraits. But the importance of portraits remains the same - that quest for self-expression."
"The natural beauty of the human form is one we are biologically programmed to recognise - studies have shown that a new-born sees everything but facial features as a blur - meaning that our most primal instinct is to gravitate towards the human face. As such, portraiture is a genre to which it is very easy to form a connection", says Olivia.
"A good portrait shows the personality of the subject in the face, their existential condition, supplying elements to describe their life and, more in general, the figurative currents that interpret it. As a result, although portraiture uses codified typologies, it is an extremely varied genre: diversity in faces, attributes and meanings. An efficient mirror of man to send into the future," explains Stefano.
...
We asked our interviewees to share their favourite portraits in museums, and why they like them so much:
Florence Evans, The Weiss Gallery: Queen Charlotte by Gainsborough, 1781 at the Royal Collection, London:
"I've always loved this full-length portrait, first exhibited at the Royal Academy in 1781 - at the time it was described by one onlooker as 'the only happy likeness we ever saw portrayed of her Majesty'. She actually looks rather thoughtful, even whimsical, and you get a real sense of the woman behind the dress - which incidentally - is magnificent!" www.rct.uk/collection/search#/3/collection/401407/queen-charlotte-1744-1818
Olivia Ghosh, Christie's: Diane Kirke, later Countess of Oxford, by Sir Peter Lely, 1665 at the Paul Mellon Centre of British Art, Yale:
"In my opinion it is about as perfect as a portrait can get. It is Lely at the height of his genius - he has given his sitter character, though she undoubtedly is an object of male desire, I also see a woman in control of the world around her who enjoys the spell she casts even centuries later."
collections.britishart.yale.edu/vufind/Record/1669283
Davide Trevisani, Maurizio Nobile selected Portrait of a Halberdier (Francesco Guardi?) by Pontormo, 1529-30 at The J. Paul Getty Museum, Los Angeles:
"If I really have to choose it will be this portrait, because of the beauty and power of the pose, the strength (or melancholy) of the expressions, the (closeness and) distance of his gaze. It just makes me dream."
www.getty.edu/art/collection/objects/824/pontormo-jacopo-carucci-portrait-of-a-halberdier-francesco-guardi-italian-florentine-1529-1530/
Andreas Pampoulides, Lullo Pampoulides: Anima Dannata (or Damned Soul) by Gian Lorenzo Bernini, 1619 at the Spanish Embassy in Rome:
"Strictly speaking the Bernini marble is not a portrait, but it is believed by some that when the 20 year old sculptor carved it, he was studying his face in a mirror when trying to capture the likely expression on a damned person's soul. It is carved with such humanity and vigour it can speak to anybody regardless of whether they know anything about art or not." www.theparisreview.org/blog/2015/05/21/this-kids-got-the-touch-and-other-news/
Matthew Reeves, Sam Fogg: Self-Portrait by Rembrandt, 1659 at the National Gallery of Art, Washington DC:
"There are few such humbling expressions of human searching in my opinion. His whole pose and expression, which is almost one of complete resignation, reminds me of a line from Jackson Browne's These Days: "Don't confront me with my failures, I had not forgotten them." This is what his eyes say to me."
www.nga.gov/collection/highlights/rembrandt-self-portrait.html
Naming just one favourite portrait proved near impossible, and as both Andreas and Matthew also chose Juan de Pareja by Velazquez, c. 1650 at the MET in New York, we thought that it most certainly deserves to make it on this list:
Matthew says of the portrait "it is right at the top of my list. I go and see him whenever I visit New York. As soon as I walk into the room and see him I know he has been waiting to restart the conversation we were having last time we met. A whole spectrum of emotions and thought processes plays across his face like a changing sky, and I get butterflies every time I talk to him." Andreas adds "I admire it for the same reason as the Bernini as the humanity and vigor speak to everyone."