E-scape with us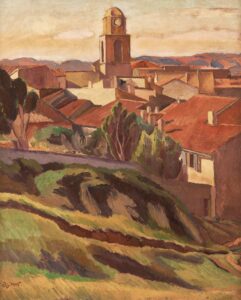 At a time when escapism is much at the forefront of our minds, artscapes are the perfect way to travel and lose oneself in another place and time.  Sit back and relax, dream of past holidays or future adventures. Through landscapes and city-scapes, discover a wonderful variety of works offered by London Art Week dealers.
Escape to the French Riviera with this beautiful oil on canvas by Duncan Grant (1885-1978) painted around 1921-22. Titled South France, Notre-Dame, it is available from Philip Mould & Company. In October 1921 Duncan Grant visited the South of France, spending some five months there with Vanessa Bell and her family. Grant painted several canvases throughout his visit. This work depicts Notre-Dame de l'Assomption, a Catholic church in St Tropez. In contrast to the bright colours which governed Grant's work before the start of the First World War, the present earthy tones in this view reflect on and celebrate the harmony between the natural landscape and the town below.
Our journey takes us across the border to Italy where we have this beautiful watercolour of Isola Bella on Lake Maggiore, Italy from 1795 by Charles Gore (1729-1807) which will be part of an exhibition of his Marine Drawings this summer at Guy Peppiatt Fine Art. Gore was able to travel extensively with an independent income and was fascinated by the sea and sailing; he commissioned his own cutter, which he named Snail, and spent much time painting around the harbour at Portsmouth.
Further south in Italy, we reach the countryside of Lazio, just south of Rome. The village in the background can be identified as Isola del Liri with its imposing ducal palace, Castello Boncompagni-Viscogliosi, and the waterfall of the Fibreno river. Its execution, probably around the 1790s, suggests that Alexandre-Hyacinthe Dunouy (1757-1841) painted this on his first stay in Rome. The oil on canvas is available at Didier Aaron.
Crossing the Adriatic, we make our way to Greece and reach the Ruins of the Temple of Aphaia on the Island of Aegina. The picturesque temple of Jupiter Panhellenius stands on Mount Panhellion and commands a view of the Saronic Gulf. The goddess Aphaia's cult was only found at Aegina, and is one of the loveliest late-Archaic temples in Greece. This depiction was rendered by Eliza Mayes, a 19th century artist; sadly she seems unrecorded but we assume that she must have painted this on her travels. It is available at Karen Taylor Fine Art.
An artist who travelled further afield is William James Müller (1812-1845), who painted this Study of a man in Ottoman Costume in 1839. The artist was one of Bristol's most celebrated artistic sons. He painted this vibrant and striking panel of a gentleman in Ottoman costume shortly after a three month sojourn to Egypt, where he travelled extensively from November 1838 to January of the following year. The sitter cannot be identified for certain although the famous explorer and polyglot Sir Richard Burton, as well as the Scottish painter David Roberts have been suggested, but it is most likely a friend of the artist. In the middle distance a minaret is visible, with mountains behind. The dusky setting accords with an entry, from 12 January 1839, in Müller's Egyptian journal, with the artist writing that 'twilights in Egypt have a peculiarity which I have never noticed in any other country, from the positive colour of the yellow and the dark blue-purple of the upper heavens'.[1] The painting is available at Elliott Fine Art.
[1} N.S. Solly, Memoir of the life of William James Müller, a native of Bristol, landscape and figure painter: with original letters and an account of his travels and of his principal works, London 1875, p. 72.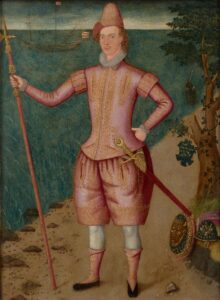 Will we feel as intrepid as this 16th-century gentleman clearly was, when we can start travelling again?
This magnificent portrait shows a young explorer proudly standing on the foreshore of a beach, with rocks encrusted with gold at his feet. Exploration is one of the defining characteristics of the Elizabethan age, and it is therefore surprising that so few painted portraits of explorers survive. Although recently discovered in France, this is an English School work in oils on paper, dated 1594, and is available at Philip Mould.