VIP Access to the 2020 SYMPOSIUM - 'Raphael'
The London Art Week Board of Directors, are delighted to invite you to the London Art Week 2020 Symposium on Raphael. Join us for a series of three-panel discussions across three days in celebration of the great Renaissance Master. To register with VIP access, please click on each of the 'Register' buttons below.
ABOUT
London Art Week inaugurated its first and highly acclaimed Symposium in December 2019, held at the National Gallery; this year the LAW Symposium will take place online across three days and will mark the 500th anniversary of Raphael's death. For this edition, Emanuela Tarizzo, London Art Week Board Member and Director of Tomasso Brothers Gallery, has worked closely with Ana Debenedetti, Curator of Paintings and Lead Curator of the Raphael Cartoons project at the Victoria & Albert Museum. Among the subjects under discussion will be:
Tuesday 1 December 2020, 17.00 GMT
The opening panel will explore the significance of the anniversary of Raphael's death and of monographic exhibitions on the artist, alongside the impact the Covid-19 pandemic has had on them, and how the international museum community has responded.
Speakers:
Prof Tom Henry, Professor of History of Art (Emeritus), University of Kent, and Director, IRDS (Italian Renaissance Documents Site)
Dr Matteo Lafranconi, Director, Scuderie del Quirinale, Rome
Prof Catherine Whistler, Keeper of Western Art, Ashmolean Museum, Oxford

Moderator: Dr Thomas Marks, Editor, Apollo Magazine
Wednesday 2 December 2020, 17.00 GMT
This panel will explore the legacy of Raphael's designs, specifically in the realm of tapestries, focusing on the forthcoming reopening of the Raphael Court at the V&A.
Speakers:
Dr Ana Debenedetti, Curator of Paintings and Lead Curator of the Raphael Cartoons Project, Victoria & Albert Museum, London
Dr Helen Wyld, Senior Curator of Historic Textiles, National Museums Scotland
Dr Michela Zurla, Curator, Complesso Museale Palazzo Ducale, Mantua
Moderator: Dr Lorraine Karafel, Assistant Professor of Art and Design History, Parsons School of Design, New York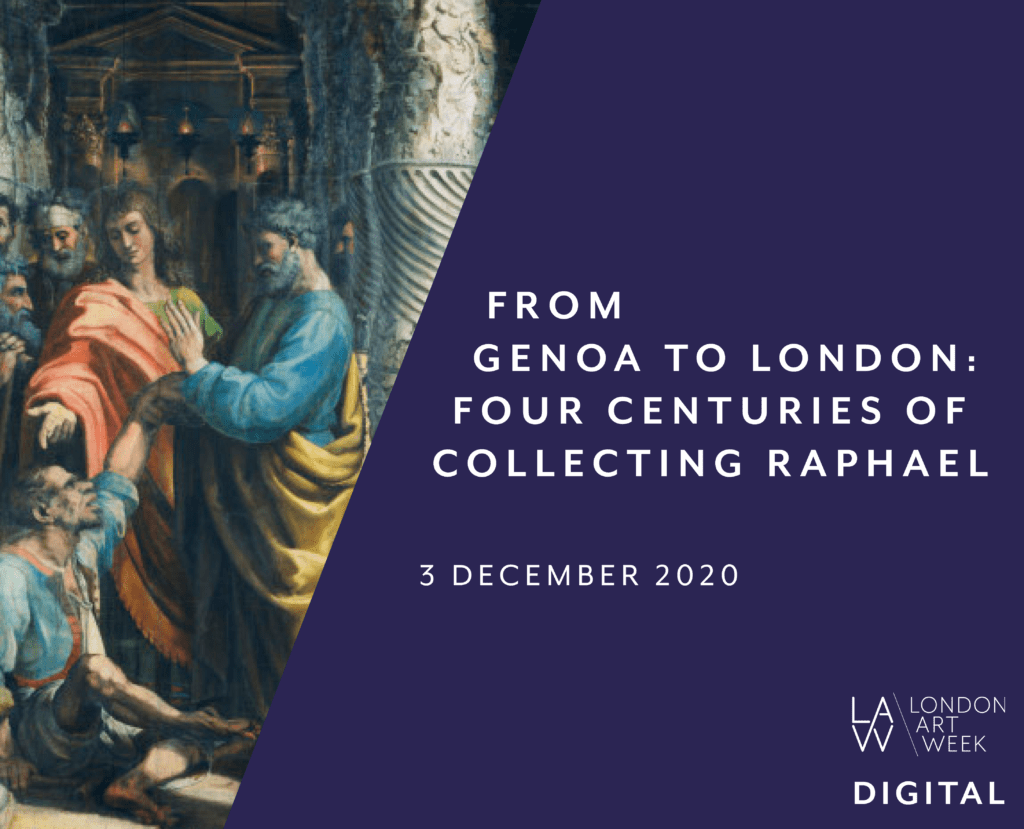 Thursday 3 December 2020, 17.00 GMT
For this final discussion of the LAW 2020 Symposium, our guests will explore the fortune of Raphael and his school in early-modern collections across Europe, focusing not only on the more widely known works on canvas but also on the afterlife of drawings and other media such as tapestry cartoons.
Speakers:
Dr Piero Boccardo, Superintendent of the Collections of the Municipality of Genoa
Dr Carly Collier, Assistant Curator of Prints and Drawings, Royal Collection Trust, Windsor
Dr Marzia Faietti, Research Associate, Kunsthistorisches Institut (Max-Planck-Institut), Florence
Moderator: Prof David Ekserdjian, Professor of Art and Film History, University of Leicester
To find out more on our speakers, please go to the general London Art Week Symposium page here