Ten highlights not to be missed at this summer's London Art Week
Written by Silke Lohmann | 4 July 2022
Miles Wynn Cato will be showing British Art Rediscovered: Unseen Pictures, Untold Stories at Gallery Ten, Cromwell Place (from Tuesday, 5th July). This ground-breaking exhibition includes 14 rediscovered paintings and drawings by some of the most important British artists of the 18th century - Thomas Lawrence, Thomas Jones, Angelica Kauffman, Joseph Wright of Derby and remarkably, five rediscovered pictures by Thomas Gainsborough. Over his 30-year career, Miles has a solid record of finding 'sleepers', and all of these works had been long lost, mis-catalogued or previously unrecorded. The pictures are also notable for stylistic reasons, or because the sitter or scene is exceptionally rare. In two instances (Gainsborough and Lawrence), the image on view is one of the artist's earliest known works to survive - so these significant new finds will shed fresh light on the early technique of these outstanding artists. A particular highlight are three paintings by early female artists, including a lost painting by Angelica Kauffman.
Colnaghi will exhibit a selection of the finest Old Master and Ancient Masterworks including Antonio Joli's (c. 1700-1777) Paestum, commissioned by Sir James Gray, 2nd Bt. (c. 1708 - 1773), the Envoy Extraordinary and Plenipotentiary in Naples from 1759-1764. It later entered the collection of the aristocrat, voracious collector and renowned Grand Tourist James Hugh Smith Barry (1746 - 1801), who was in Naples in the 1770s. Paestum hung among Smith Barry's unequalled collection of paintings and antiquities at Marbury Hall in Cheshire. There will also be another highlight unveiled during London Art Week and Colnaghi Elliott Master Drawings is also presenting exquisite works on paper in the same gallery.
Trinity Fine Art & Walter Padovani present Sacred & Profane; Italian Terracotta Sculpture from the 16th to the 18th centuries which includes Antonio Giorgetti's (Documented in Rome c. 1657 - 1669) beautiful Head of an Angel from circa 1663.
Georg Laue, Kunstkammer Ltd, is a guest at Stuart Lochhead Sculpture, contributing to the gallery's exhibition of contemporary Vanitas Still Lives by Josep and Pere Santilari (Spanish, b.1959) by displaying an exceptional 16th century Renaissance Memento Mori Janus Head. Made by a German or Dutch master around 1550, the head is carved in boxwood with the utmost precision and consummate skill. Half of the head is carved as if covered with skin; the skull is exposed on the other side. This radical depiction of death, a memento mori, reminds the viewer of the transience of all earthly things and their own mortality.
Benappi Fine Art is showing The Pull of Paris: the city's attractions and influence on artists throughout Europe. At the turn of the 20th Century Paris had cemented itself as the foremost centre for art in Europe. Artists from far and wide, pulled by the gravity of the city, travelled to be inspired, study and work. This international atmosphere of different cultures and ideas added to the vibrancy, and in turn, the production of modern art. This small exhibition focuses on Italian artist Libero Andreotti (1875-1933) and Scandinavian artists, who worked and studied in Paris during the early 1900s, many under Matisse and the exhibition also includes one of his drawings.
Ben Elwes Fine Art has curated a whole exhibition on the music theme which includes a rare and extraordinary life mask bronze of Beethoven by Franz Klein with a remarkable provenance. Also on view at the exhibition is a cast of Chopin's left hand and an adorable painting of Mozart and his starling.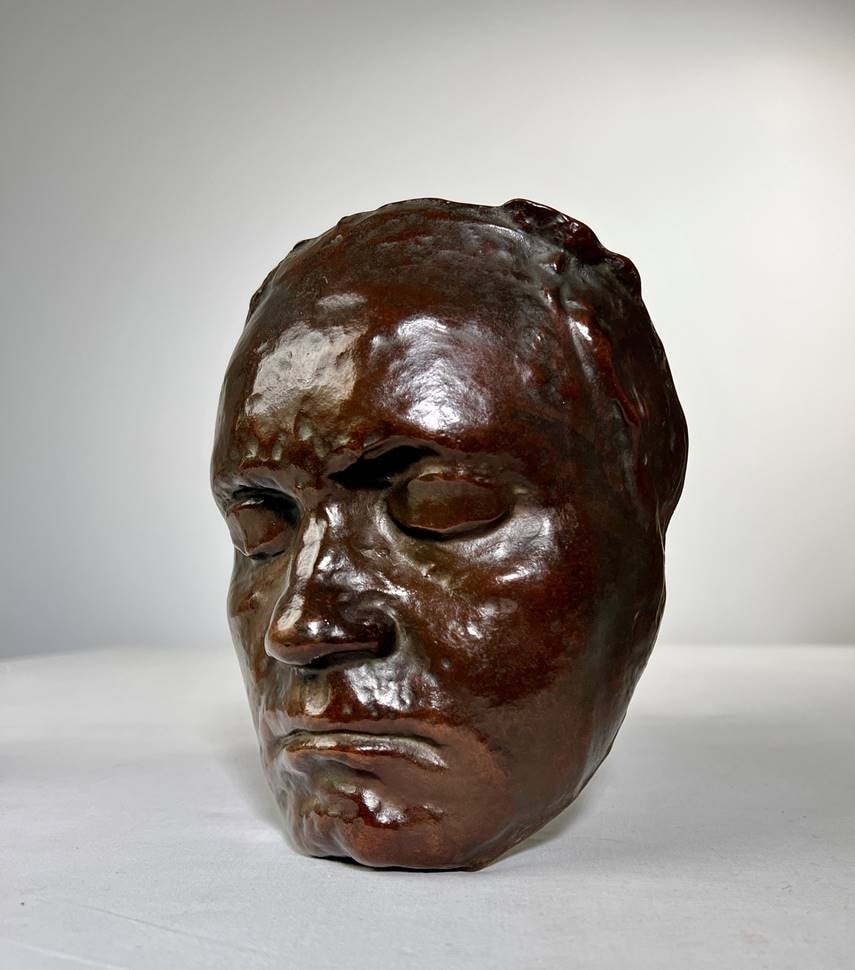 Brun Fine Art will show Madonna with Child and a Bishop Saint by Francesco Marmitta (1464 - 1505), one of Parma's greatest painters before Correggio, but mainly known as a goldsmith and crystal carver, as well as an exquisite and rare illuminator. Panel paintings by the artist are very scarce. The present panel, still unpublished, is considered the second altarpiece attributable to him and perhaps one of his last works.
The Weiss Gallery has a collection of important highlights, among them an intriguing portrait of an Elizabethan courtier circa 1590, probably Sir Thomas Drake of Buckland Abbey, Yelverton (1556 - 1606) by Hieronimo Custodis (fl.1585 - 1593). The painting has an interesting inscription in the upper left of the oil 'Fatto a tempo' ['done/ made in time']. Presumably commissioned by the sitter, it went to his daughter Elizabeth Bampfylde (1592 - 1631) and stayed in the family for several centuries. The exhibition will also include two 17th century examples of courtiers in their finery, one male and one female, which give a good representation of court life at the time.
The anticipated Albrecht Dürer Virgin and Child catalogue will be launched at Agnews, where it is still possible to see this masterpiece and find out more about the research on its recent discovery.
Rountree Tryon Galleries will be showing the Portrait of Robert 'Bobby' Gould Shaw III on horseback in the grounds of Cliveden by Sir Alfred James Munnings, P.R.A., R.W.S. (1878-1959). The sitter, Nancy Astor's eldest child from her first marriage, was an accomplished horseman and the painting captures the essence of elegance and grandeur of life for the English aristocracy in the years before the Second World War. Although the family commissioned the portrait, it remained in Munnings' studio as Gould Shaw was jailed for homosexuality in 1931; it was later acquired by American heiress Mrs Cynthia Cary for her home in Newport, Rhode Island.