Memento Mori
Written by Silke Lohmann | 4 July 2022
This Summer, two of our London Art Week dealers are exhibiting contemporary works with their usual offering of earlier art. Interestingly, both have chosen artists who have been inspired by Memento Mori.
The Fine Art Society shows "David Eustace: Memento Mori and The Glasgow Boys" and Stuart Lochhead, in partnership with Artur Ramon Art and Warner-Johnson Art Advisory, stages an exhibition of "Masters of Realism: Vanitas, Kunstkammer & Still Lifes by Josep & Pere Santilari" featuring Memento Mori works exhibited by Georg Laue, Kunstkammer Ltd.
Scottish artist David Eustace's works are centred on the transience of life and Eustace's disbelief in death as a permanent state. Eustace's arresting documentation of decaying flowers serves as a reminder of our own fragility.
Identical twins Josep and Pere Santilari (b. 1959), have been producing works of exquisite refinement in pencil and oil for over three decades from the studio they share in the village of Montgat, a few miles north of Barcelona. They have shown figurative works and still lifes of various subjects, including vanitas and floral pieces and more recently compositions inspired by the theme of the Kunstkammer and the tradition of the Old Masters - all notable for the close observation and meticulous rendering of their subjects.
With London Art Week mostly dealing from the ancient to the 20th century, we never get a chance to ask the artists about their inspirations, so we wanted to use this opportunity to find out a bit more from these three present-day artists.
David, what made you choose dead or dying flowers for this art photography project?
Decaying flowers serve as a reminder of our own fragility. They are generally regarded as being 'pretty' and of value for a relatively short time and soon become trash or waste thereafter. Many celebrate the cherry tree blossom in full bloom, while others grow disappointed when its flowers last only a few weeks, having waited so long to witness such splendour. Many celebrate not the bloom but the fragility and impermanence, so splendid, with anticipation and longing. They savour the moment, knowing it will pass, but never disappear. Put simply I don't believe in death and such moments allow me to witness and experience the change, calmness and progress of a journey into the unknown. There is a purpose and energy beyond what we recognise as living that I wish to respond to and celebrate.
You are often portraying nature in your work and even your portraits often have a strong connection with nature, why is that?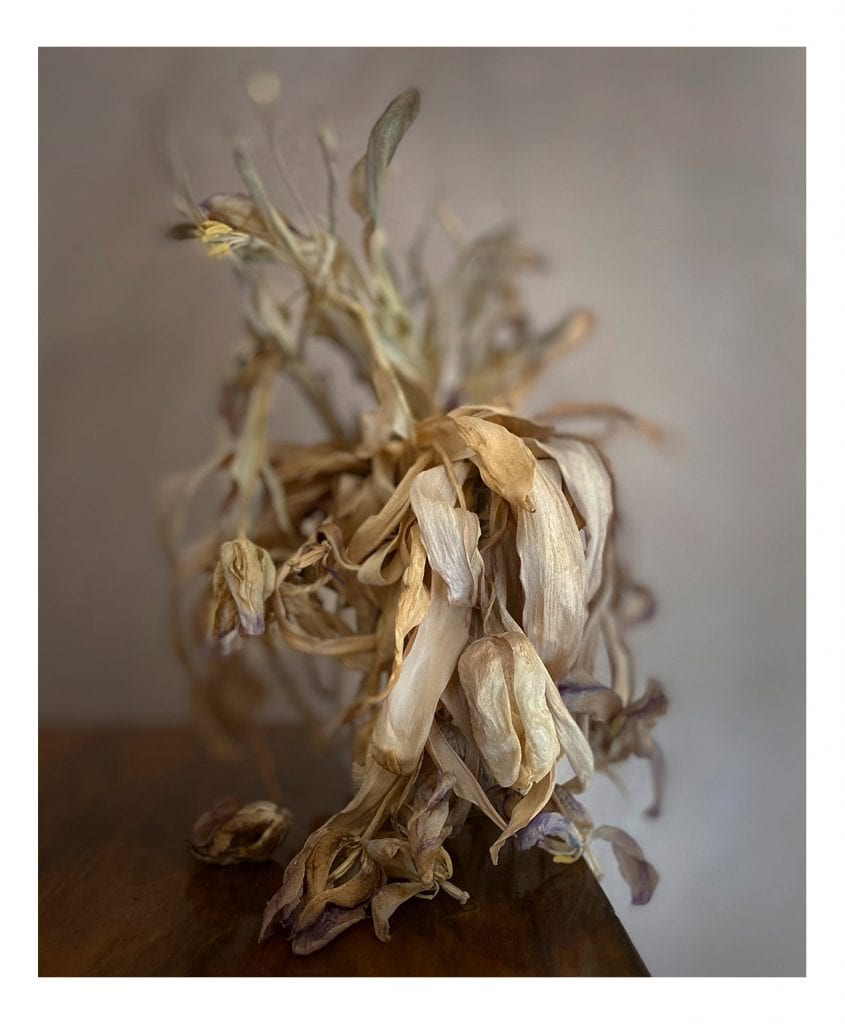 In nature everything that begins a journey of decay immediately begins a change and a new form, to feed something else. A constant amount of atoms exist to simply rotate and develop some new purpose, even for a short time. Artists seem intrinsically drawn to decay, fascinated by a stage when 'pretty' is past and transition becomes more apparent...a time yet to come, a period that raises so many questions. This is a reminder of the immediacy and fragility, a short-lived period documented knowing ultimately all things change and that death is not the end and yet it is inevitable.
Josep and Pere, your works, mainly on paper as well, will be shown surrounded by Kunstkammer objects, where did you get your inspiration from?
We interpret Vanitas as synonymous for existence, and from these, we have built our discourse, in which sometimes irony predominated -Vanitas of greed-, other times the reflection on oneself -Nosce te ipsum-, others denouncing the violence of genus-Antea-, etc. We want to give a broad view of the subject, not always moral, creating a series of works in which the human being, represented by the skull, is in the centre of the composition.
The Vanitas is a theme that dates back to Roman times, although it was in the Baroque when it was strongly imposed on the artistic and literary scene, such as "La vida es sueño" by Pedro Calderón de la Barca. When we began to work on this theme, we consulted many books, and from these, we got a reasonably complete idea of ​​what the Vanitas had been in history.
At the time of its most tremendous success, there were two radically different currents on the subject: in northern Europe, the vision was to take advantage of the brevity of life and give it a more playful sense of gratitude for the opportunity to exist, however, in Spain, the "Memento mori" was translated as a "valley of tears", a reminder to behave well in that life to enjoy "eternal life".
David, when did you come up with the idea for your exhibition?
In 2018, I went to Paris to create a personal photographic project featuring the statues of Père Lachaise. The project was more symbolic of spirit, friendship including that of relative strangers than any individual or the place itself. During that visit, I also wanted to make a portrait of a friend and fellow artist, Douglas Gordon. I had the idea and suggested to Douglas that we have a picnic lunch at the side of Gertrude Stein's resting place in celebration of a life lived. The day before our scheduled lunch whilst working on the print portfolio I noticed leaves gently falling and whilst they fell largely unnoticed the act fed further growth, as can be the case in conversations between strangers and friends alike. The following day, the day of our lunch, I brought a box and asked Douglas to help me collect some fallen leaves, at this point quite unsure what I would do with them. I took the box home and placed it on a shelf where it sat for the next couple of years. During lockdown surrounded by flowers at home, I became more aware of the leaves from Père Lachaise and the fragility of passing moments. I then began a series of images, created on my phone, and in conjunction, a set of sculptures, including the leaves from the cemetery, celebrating not death as these passed to the next stage but life and its never ending journey of life often in a new form.
How much do old masters influence your work in general, Josep and Pere?
The old masters have been our source of inspiration for the Vanitas series and our work in general. Since our careers as artists began, we have been interested in figurative art. In our first drawings and paintings, our study and sketches focused on understanding the classics, from Greek and Roman sculptures to Renaissance and Baroque artists. Discover the concept of drawing, examining those of Leonardo, Michelangelo, and Raphael, the engravings of Rembrandt and Goya, understand what linked them, how they solved space, light on bodies and objects, and how they translated reality into a new work either painting or drawing. In short, it is a matter of understanding what is in common between their works - that kind of invisible thread: the concept - and trying to apply it to our language.
David, what about you, do you think you have been influenced by old masters?
I am influenced by all sorts of things, anything that intrigues your senses. I always feel that Old Master paintings are still very modern. If you think about how long ago dinosaurs roamed the earth, all art is contemporary. I don't think there are many artists today who are not influenced by older art and I hope people will start curating differently - I can see an Anthony Gormley next to a van Dyck and it will make people think. I want to influence society with my work and I am sure so do most artists now and in the past. I can't specifically say that old masters influence my work, but they are important in my life and my work is my life.
Josep and Pere are there any works or artists that you value in particular?
More than one, and it would be unfair not to mention Rembrandt's Bathsheba or Raphael's Fornarina, Chardin's or Luis Melendez's still lifes or Caravaggio's chiaroscuro.
What techniques are you using?
We both paint and draw. Paintings are oil on canvas, later attached on board. Drawings are made with graphite pencils of different hardness on Schoeller or Hahnemuhle paper/cardboard -a type of paper that resists the stress of the pencil's repeated marks.
What about you, David?
All my photographs for this exhibition have been printed on archival Japanese paper stock.
My sculptures are all 'repurposed' in one way or another, I like giving objects a new life, it's magical. It's not so much giving them life after death, but more to give them a new purpose.
Pere and Josep, we would love to know a bit more about how you, as twins, work together in the studio... are you happy to share a few thoughts on that?
We are twins and have no other siblings. Of course, we always shared a lot, even in the studio when we started painting. Working together is like climbing a ladder; if one is a few steps ahead, he will explain to the other how to proceed. It is like a team effort; although we rarely work together on the same piece, we are complementary. From the beginning, we shared the same idea of painting/drawing, we both know what our goal should be and the final result we have to achieve; it has been an evolution together, not a competition.
David Eustace left school at 16 and undertook various jobs, before returning to full time education at the age of 28 when he did a BA in Photographic Studies at Edinburgh Napier University. He went straight to work in London, contributing to GQ, Vogue and Tatler, and in advertising. He spent 15 years in NYC and his work has taken him all over the USA, UK and further afield.
---
Josep and Pere Santilari decided to become artists following a trip to the National Art Museum of Catalonia aged just 8 or 9. They studied at the Facultat de Belles Arts, Universitat de Barcelona, consciously choosing to follow a traditional fine arts curriculum, an instruction grounded in the art of drawing. After graduating in 1981, the Santilaris participated in group shows and began to receive national awards. In 1987, they began their long association with Artur Ramon Gallery, Barcelona, initially showing a variety of works in graphite and oils, some of which depicted personal reveries of themselves and their families with a surreal quality of magic realism. Thereafter, they moved away from this dreamlike subject matter and they gradually simplified their compositions to produce still lifes of everyday objects that recall the works of Caravaggio, Chardin or Morandi, in addition to pared-down figurative works, landscapes and cityscapes. This process of simplification also allowed them to refine their sensitive handling of graphite and oil to create works of extraordinary technical virtuosity.