Latest Discoveries at London Art Week this Summer
Written by Silke Lohmann | 15 July 2021
This year, London Art Week is in the fortunate position to have several new discoveries on public view for the first time. A short introduction to the five highlights from the 15th to the 19th Century can be found here.
The Young Venetian
This previously lost Portrait of a young man by Jacopo Robusti, called Tintoretto (c. 1518 - 1594) at Benappi Fine Art appeared on the market with an unspecified provenance in a regional auction house in the UK. The sitter, a young man, is most likely from Venice and the combination of intensity of expression and compositional poise is close to the most authentic vein of Jacopo Tintoretto's portraiture, capturing the essence of human personality. This is characteristic of Tintoretto's work in the 1560s, when he abandoned the casual elegance inspired by the portraiture of Titian and Salviati, with strong draughtsmanship at its core in order to move to a more 'modern' presentation.
Tintoretto was one of the major artists of the Venetian school and his contemporaries both admired and criticised the speed with which he painted, and the unprecedented boldness of his brushwork. Known for his phenomenal energy, he was termed Il Furioso ("The Furious") and the development of fast painting techniques called prestezza allowed him to produce many works while engaged on large projects and to respond to growing demands from clients.
The sitter is a youth, around sixteen years of age, painted in a three-quarter view. The elongated oval of the youth's face emerges from the black high-necked doublet, illuminated by a white shirt with a compact ruffle collar, and is topped by a black velvet berretta a tozzo (a tall black cap). This delicate and sensitive portrayal of the sudden melancholy of adolescence, belongs to this late period of Tintoretto's psychologically acute but discreet investigation into the innermost character of his sitters, in what appear deceptively simple compositions, but are in fact carefully calculated in their every detail. In art historian Vittoria Romani's detailed analysis, she compares this portrait to ​Tintoretto's Portrait of Ottavio Strada at the Rijksmuseum in Amsterdam, which brought the series of young men he painted in the 1560s to an end.
The Summer Queen
The Weiss Gallery offers a newly discovered portrait of a forgotten 16th century Queen of Scotland, known as the Summer Queen of King James V. The unpublished and beautifully preserved portrait by Corneille de La Haye, called Corneille de Lyon (c. 1500-1575) depicts Madeleine of France. The Valois court artist, a Protestant Dutch émigré and one of the finest portrait painters of the French Renaissance, depicts Madeleine of France (1520-1537), the favourite, but sickly daughter of the venerable French king, François I (1494-1547). The singular virtuosity with which Corneille has captured the young princess's sweet and somewhat wistful expression places this portrait amongst the most ravishingly beautiful and endearing of all Corneille's oeuvre.
16-year-old Madeleine fell in love with James V of Scotland (1512-1542) when he was visiting France to court a bride and cement the auld alliance and the couple were married at Notre Dame on 1 January 1537. Madeleine was Queen Consort only fleetingly as she sadly died shortly after arriving in Scotland in May 1537. Madeleine's health was fast deteriorating, and tragically on 7 July 1537 she died at their palace, Holyrood house, reportedly in her new husband's arms, before she had even had an official coronation. Her death precipitated the British royal lineage we know today, providing us with a fascinating historical 'what if?' (James subsequently married Marie de Guise and their daughter was Mary Queen of Scots.)
The painting has come from a private French collection where it had remained, the subject unknown, for nearly 100 years (and very likely a great deal longer). This hitherto unrecorded portrayal of the ill-fated princess is almost certainly Corneille's ad vivum original. Recent infra-red reflectography has revealed 'the presence of a freely applied underdrawing', corroborating the spontaneity of a painting drawn from life. Although Madeleine's iconography based on this portrait type was already known through several versions - some from the Corneille studio and others of a much later date - all are of varying and lesser quality than the present work. The closest is a tondo replica at the Fogg Art Museum, in which she wears an identical dress with Italianate sleeves of white silk emerging from slashed black velvet.
The Victorian Activist
Ben Elwes Fine Art holds an exhibition on Literary Women: Writers and Revolutionaries and among them is a previously-unknown Carrera marble bust of Victorian writer and activist Jessie White Mario (1832 - 1906), attributed to the American sculptor Margaret Foley (c. 1827 - 1877). Jessie was a committed supporter of Garibaldi and Italian Unification and independence from foreign rule, the Risorgimento. Such was her loyalty to its revolutionary leader Giuseppe Garibaldi (1807 - 1882), she authored his seminal biography of 1885. The Italian press referred to her as Hurricane Jessie and she had international acclaim as a journalist with audiences in Britain, America and Italy.
She is also well-known for protesting against poverty and slavery, and made a stand for women's rights in education. Born in Hampshire, England in 1832, she toured Britain and America between 1856 and 1862, lecturing in support of the Italian cause. Whilst lecturing in America, she also spoke out against slavery, re-affirming her position as an advocate for all oppressed peoples. Confronting senators of slave-owning states, she said, 'I would not dare to ask support in this great country for the oppressed Italians without strong faith in the right of every nation, of every race, of every man to his liberty... For whites and blacks, for everyone together'. In 1857 she became the first foreign and war correspondent for The Daily News, a London newspaper founded by Charles Dickens, and became known as a 'crusading journalist'. She continued to write extensively, submitting her last of 143 articles to the American publication, The Nation, in the week before she died in 1906 - and W. P. Garrison wrote about her "An honor to her sex and to Britain's great name".
Jessie White Mario and sculptor Margaret Foley were acquainted through connections in Rome, which was home to a 'marmorean flock' of American women sculptors (a term coined by author Henry James) in the late 19th century.
The Man with the Golden Watch
Johnny van Haeften offers a rediscovered Portrait of a Gentleman holding a Watch by Aelbert Cuyp (1620-1691) the renowned great landscape painter of the Dutch Golden Age, who started his career painting portraits. The emergence of this new portrait by Cuyp provides an opportunity to revaluate his contributions to the art of portraiture in mid 17th-century Holland - a field the artist is not normally associated with.
Although the portrait has been recorded since 1815, it eluded extensive discussion in the literature on Cuyp, perhaps because it was very little seen. The portrait's recent appearance at auction and subsequent conservation provides an opportunity for reappraisal. The half-length figure turns to engage the viewer. In his right hand, he holds a watch, its crystal open, formerly misinterpreted as a locket. The brushwork is of exceptional quality: vigorous strokes build up the ruddy tones of the face, a typical feature of Aelbert Cuyp's portraits, while heavy dabs of paint render the beams of light that illuminate the background. Soft pastels highlight the architectural elements, a feature commonly found in the artist's landscapes.
He trained with his father, Jacob Gerritsz. Cuyp, who specialised in portraits, but after about 1651, Aelbert Cuyp's interest in single portraits dissipates, although it is likely that he had to help his father complete commissions shortly before Jacob Cuyp's death in 1652. The first recorded owner of the portrait was Sir Gregory Osborne Page-Turner (1785-1843), who was only twenty-five when his already impressive first collection was liquidated at auction. The portrait was purchased by the banker Alexander Baring (1774-1848), and in 1836, Gustave Waagen visited Baring's residence in London and judiciously noted, "In this department of art, too, Cuyp proves himself an able master, for the conception is very animated, and in impasto and warmth of tone it is very near to Rembrandt, only the flesh is less transparent."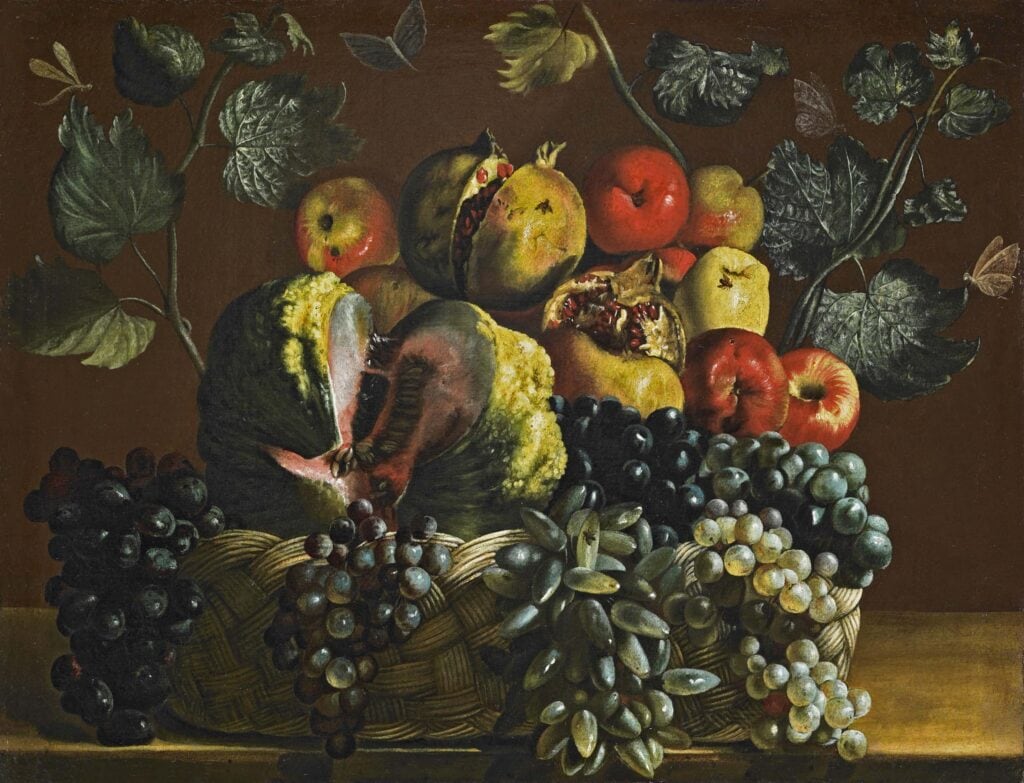 The Caravaggesque Still-life
Galerie Canesso is showing a work by one of the greatest still-life painters of the Caravaggesque movement - Basket of Fruit by Bartolomeo Cavarozzi (1587-1625). This sculptural, intensely-coloured "Basket of Fruit" has just been recognised by Gianni Papi as a still-life by Bartolomeo Cavarozzi, making this a new addition to the oeuvre of this artist. The relatively recent appearance of an archival document of 2 March 1613, proving that Bartolomeo Cavarozzi was active as a painter of independent still lifes, provides us with a chronological parameter in this specific area. While it would still be premature to put forward a precise dating for such works by Cavarozzi, Gianni Papi regards them as from late in the artist's career, in the 1620s, a period in which he also places the fine "Still Life" recently exhibited by Colnaghi (Tefaf 2017).
The works of Bartolomeo Cavarozzi (1587-1625) begin to receive increased admiration and appreciation from art historians and he is emerging as one of the more distinct and original followers of Caravaggio. He received training from Giovanni Battista Crescenzi in Rome and later travelled to Spain alongside his master for a few years where he achieved some renown and was significant in spreading "Caravaggism" to Spain before returning to Italy. His surviving works are predominantly Biblical subjects and still-life paintings. In 1996, in an article in the journal "Paragone", the Italian scholar Papi had hypothesised that the great painter from Viterbo had also painted still lifes without figures, some of which could be identified within the group ascribed to the anonymous Acquavella Master, to whom our composition had also been attributed prior to its exhibition at the Borghese Gallery in Rome (2017) - where it was displayed as by a Caravaggesque painter active in Rome during the first quarter of the seventeenth century - and before finally being accorded the authorship of Cavarozzi.