In Conversation
Amparo Martinez-Russotto, Curator of The Klesch Collection, which includes works by significant historic women artists, talks to Emanuela Tarizzo, London Art Week Board Member and Gallery Director at Tomasso Brothers Fine Art.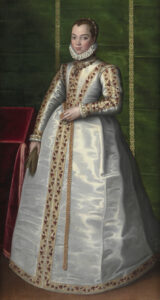 ET: Thank you for talking to London Art Week, Amparo. What can you tell us about The Klesch Collection and how it has developed over the years?

AM-R:  It is a collection of 16th and 17th century European paintings, created by Gary and Anita Klesch who are experienced collectors.  The Klesch Collection reflects the interests and passions of the collectors. We have some of the greatest names in the history of art represented. It is growing constantly and we continue to develop an important collection centred on masterpieces of the period. The collectors find this period particularly interesting because, unlike in previous centuries when the dominating subject in art was religion commissioned by the Church, from the early 16th century, new genres begin to appear in European painting. A new class of wealthy private citizens develops during this time, wealthy merchants and self-made individuals who commissioned works for their own private use. This led to various new genres in art, which are represented in the collection. For instance, there are personal devotional works by Lorenzo di Credi (1549-1537) and Guido Reni (1575-1642), alongside still lifes by Peter Claesz. (1597-1660) and tavern scenes by Jan Steen (c.1626-1679), as well as portraits of noblemen by Titian (c. 1490-1576) and Ludovico Carracci (1555-1619), and not to mention the amazing set of anthropomorphic figures The Four Seasons by Giuseppe Arcimboldo (1525-1593), the only complete set in private hands.
ET: Is there one work that you would describe as having been pivotal to the Collection?

AM-R:  There's no individual work as such, but there are a few where the acquisition has helped us achieve our goals - primarily, promoting scholarship and sharing the works in the Klesch Collection with the wider public. We acquired a work by Giorgio Vasari (1511-1574) of circa 1552 depicting a monumental figure of Patience. The painting has such an interesting history and, unusually, correspondence by the main figures involved in its conception has survived, allowing us to follow the story of this work, as told by those involved in it.  It was commissioned by Bernardetto Minerbetti, Bishop of Arezzo (d. 1574), who adopted Patience as his own personal identifying emblem with the motto "diuturna tolerantia", after having suffered many years at the hands of an unloving uncle. The other protagonist in the story is none other than Michelangelo himself, who designed the figure of Patience, which was subsequently painted by Vasari. The result of this collaboration is an astonishing masterpiece, which quickly permeated the visual culture of Florence and beyond. The painting is now hanging at London's National Gallery, where it can be viewed alongside other masterpieces of the same period.  We have recently published a book by the eminent scholar Carlo Falciani, who made the astonishing discovery and traced the history of the work.  We are launching this book about this fascinating history before the end of the year.
ET: You mention that The Klesch Collection has a focus on promoting scholarship. Is your interest in the work of female painters part of this effort to help educate the next generation of art historians?

AM-R:  The work of women artists has been overlooked and mis-catalogued for centuries, so yes, it is important to address this gap in the history of art. Female artists should receive their due place and recognition; enabling learning and providing accessibility certainly play a crucial part in this. We are currently working with a number of universities to develop a scholarship program for graduate students wishing to pursue a Masters or PhD degree in Renaissance and Baroque painting.  Academic excellence and art education are very important to us, and we are committed to help instruct the next generation of art historians.
ET:  You worked at Christie's for many years before becoming curator of The Klesch Collection; have you seen a change in the appreciation of the work of female painters?

AM-R:  The art world has been male dominated for years.  Only recently have female artists started to gain due recognition in the arena of old masters. When painters like Sofonisba Anguissola or Judith Leyster broke from the socially established confinements imposed on their own sex, producing amazing paintings that could equal and even surpass the quality of works by their male counterparts (let's not forget, works by Judith Leyster have been wrongly attributed to none other than Frans Hals), we see them establishing their own position, challenging set preconceptions and overcoming the restrictions of their time. This is something that is very inspiring and relatable in today's world.
ET: Can you introduce us to some of your highlights by female painters?

AM-R:  The Klesch Collection wants to recognise the importance of female artists, so we actively seek to identify and collect women who painted in the 16th and 17th centuries - not exclusively, but we are keen to bring attention to them. Some of the remarkable female artists in the collection are Michaelina Wautier, Sofonisba Anguissola, Lavinia Fontana and Judith Leyster.
ET: The painters you mention led rather different lives, and had careers in different parts of Europe, but is there anything that unites their work?

AM-R:  As you say, there were female artists working in various countries.  Each was formed by a very personal combination of circumstances: their culture, background, social class, marital status.  They are all fascinating figures: Sofonisba was recognised as a child prodigy and her father, in a highly unusual manner, decided to give her and her sisters a well-rounded education and artistic training. This was uncommon for the time. She is such a special figure: my mind boggles when I think that she learned from Michelangelo when she was young, and also met van Dyck at the end of her life. Lavinia Fontana had access to an artistic education because her father was a painter and she was able to train in his studio. She went on to have eleven children and a very successful career, in which she received commissions and was able to care for her entire family. She was so successful that her husband, another artist, gave up painting, to manage her career. Judith Leyster was so well-regarded that she had pupils of her own. She was one of the few professional women painters during the Dutch Golden Age. After her marriage to Jan Molenaer in 1636, few works of her are known. And finally, the amazing Michaelina Wautier, who chose never to marry and instead dedicated her life to painting alongside her brother Charles. Today she is recognised as an outstanding painter of the Baroque period, but shortly after her death she fell into oblivion as her works were attributed to various male artists.
ET: Works from the Collection can be seen in public: has sharing the collection in this way always been a goal?

AM-R: Yes, we're committed to sharing our collection with the wider public. We have a very active loan program, with paintings being shown as part of single exhibitions, or as long term loans to museums. Accessibility and education go hand in hand, so we are proud to say you can find paintings from The Klesch Collection in some of the most prominent museums around the world.
ET: And finally, what advice would you give to young collectors?

AM-R: I would say, pursue collecting with enthusiasm and joy!  It is one of the most satisfying activities that can be done. No matter the price range or the nature of the items to be collected, buy what you love - budget permitting! Educate yourself in art history, so you are better informed about the context of a work, its intended audience, the artist.  The amount of pleasure that can be derived from collecting is incredible.  Just ask any collector about their collection and you'll have a hard time getting them to stop talking!