Five Favourite Works - Chosen by the team at Hunters LAW LLP
Hunters Law LLP, sponsors of London Art Week, shares its clients' passion for art, so we asked members of the team to select their own favourite works on offer at LAW Digital this winter. These are the results...
Vanina Wittenburg: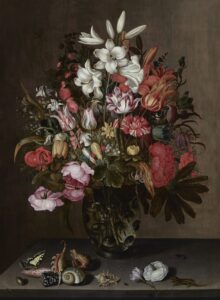 Ben Elwes Fine Art
"As an amateur gardener, I find this painting endlessly fascinating. The amount of detail in each flower and object which makes you want to look closer at each one - the different types of daffodils, the tiny violas and aquilegias, the patterns on tulip and carnation petals, the blowsy peony. I love the realistic quality of the painting, though it is, in fact everything but, as it includes flowers which bloom in different seasons; and I remember from my school days that in all likelihood, every flower, butterfly, shell and lizard has deeper, allegorical meaning. Yet to me, it has such intrinsic aesthetic beauty, and I find interesting that contemporary artists remain fascinated by the subject of flowers, and are still today reinterpreting such classic paintings."
Richard Baxter
Klaas Muller
"This work strikes me as combining many of the qualities of both Caravaggio's and Rembrandt's work, displaying a subtle interplay between light and shade to draw the viewer's eye to the subject's eye. There the Baroque realism and verisimilitude of the overall composition pays homage to the noumenal metaphysical inner world of the subject, capturing the person within the body."
Gregor Kleinknecht
Benjamin Proust Fine Art
"This intimate and perfectly executed marble group in remarkable condition would probably once have formed part of a fountain, with water pouring from the fish's mouth.  I love the playfulness and innocence of the two putti, totally absorbed with each other and the moment, oblivious to the world around them."
Rebecca Christie
Lowell Libson and Jonny Yarker Ltd
"Castles have long been a cornerstone in the world of fantasy storytelling across literature. Turner achieves this with his brush.  This painting provides the viewer with some escapism to another place  - Germany -  which although seems difficult to reach in the present circumstances, to do so through art seems a fitting way to close 2020."
Henry Hood
Ben Elwes Fine Art
"Swedish artist Anna Boberg was not only an artist, she was also a pioneer traveller, often living alone in the remote Lofoten Islands in the Norwegian Sea where she painted en plein air, dressed in sealskin! In this painting Boberg has captured the light and movement of the ship, so much so you can almost hear the quiet lapping of the icy waters if you look long enough."
You can follow Hunters Law on Instagram @hunterslawllp