The Fairford Park Friendship Album: a case study of talented 19th century amateur women artists, at Karen Taylor Fine Art
A group of drawings from a friendship album assembled by Augusta Raymond-Barker (1827-1900) of Fairford Park, Gloucestershire offer a fascinating insight into the lives of a group of Victorian women, all of whom were accomplished watercolourists. As gentlewomen, it would have been impossible to pursue a career in art, and the amateur label applied to their work, it could be argued, has prevented it from being considered seriously until now.
Augusta Raymond-Barker assembled drawings, watercolours and prints from her extended family and friends in her scrapbook. Her precise annotations reliably identify the work of various artists and the hands of their drawing masters. Gentlewomen were often taught to draw by visiting drawing masters: the album contains evidence that Augusta may have been instructed by John Christian Schetky (1778-1874) an experienced drawing master who had taught classes, with his mother, for young ladies at Oxford University, Marlow Military College, Portsmouth Naval Academy and the Military Academy at Addiscombe.
The recently established fashion for depictions of interiors of the residences of royalty and titled families by professional male artists was taken up by female painters; three interiors of Fairford Park were included in Augusta's scrapbook. Fairford Park - built for Andrew Barker in 1661-2 by Valentine Strong (d.1662 and completed by Strong's eldest son Thomas) - is known only from an engraved bird's eye view of about 1710 by Kip. Altered circa 1740, and the grounds circa 1750-60, to reflect Rococo taste, the house was remodeled by Soane in 1789-90. His Journal No. 1, in the Sir John Soane's Museum, has an entry for 22 May 1789: 'Sanders went to Fairford this Eveng / to take plans of the House / & Offices; retd the 26', other entries follow and finish with 'Received in full April 1791 £227:8:6'. After use as an American military hospital during World War II, Fairford House was sold in 1945 and demolished in the 1950s.
Charlotte Bosanquet, Augusta's aunt, was a highly talented artist of interiors and her pictorial mapping of femininity with its focus on the inhabitants and their interior world is second to none. When her father William Bosanquet, a banker, died in 1840 Charlotte was left unexpectedly impoverished, and moved from house to house staying with members of her extended family of Hugenot descent. She built up what amounted to a pictorial diary of her movements, usually depicting the libraries, halls, or drawing rooms of their houses. One of her sketchbooks in the Ashmolean Museum, Oxford is entitled The Bosanqueti - a selection of Several Mansion Houses, Villas, Lodges, Parks, etc., the principal residences of a distinguished Family with descriptive notes.  The Ashmolean has a substantial collection of her work.
A watercolour by Charlotte Bosanquet of the Fairford Park drawing room with wonderful Chinese wallpaper shows two girls in purple dresses in the interior, most probably Augusta and her sister, Leonora. Soane's changes to this room seem to have been restricted to the chimneypiece and the cornice, and the bookcases seen framing the composition of this watercolour. (A drawing for the chimneypiece of the drawing room and several others are in Sir John Soane's Museum). Augusta herself has done a watercolour of the library.
After Augusta's mother died in 1830 her father remarried in 1841 to Lady Catherine Reynolds-Moreton (d. 2 Dec. 1892): she was the daughter of Thomas, 1st Earl of Ducie of nearby Woodchester Park, and the youngest of five sisters, all of whom drew.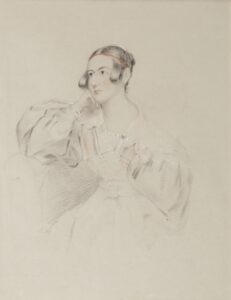 Lady Emily Dundas was the fourth daughter and the most talented artist in the family. In 1847 she married Admiral Sir James Dundas, GCB, (1785-1862) as his second wife. He became the First Naval Lord in Lord John Russell's ministry in July 1847 and they lived at Admiralty House and moved in court circles in London. A self-portrait drawing of her as a fashionably dressed young woman signed with her initials was included in the album.
Lady Emily is recorded as accompanying her husband on many official engagements, such as inspecting the fleet, from Cork to Malta. He was appointed Commander-in-Chief in the Mediterranean in 1852 and led all naval operations in the Black Sea, including the bombardment of Sevastopol in October 1854 during the Crimean War. She went with him to Turkey and took a house at Therapia. Lady Dundas evidently maintained her social life during the war and is recorded as attending a picnic for twenty-seven on the summit of the Giant's Mountain, Therapia, organised by the Earl of Carlisle.
Lady Emily's eldest sister, Lady Mary Reynolds-Moreton (1798-1842), married William, 7th Earl of Denbigh in 1822 and also moved in court circles. From 1830 her husband was a Gentleman of the Bedchamber to William IV. In 1833, he was awarded the Hanoverian Guelphic Order, admitted to the Privy Council and transferred to Queen Adelaide's Household, first as her Lord Chamberlain, then as Master of the Horse. Augusta included two drawings of Dumbarton and Dolbadern castles by Lady Mary in her scrapbook.
The third sister, Lady Charlotte (1806-1881), married, as his second wife, Maurice Frederick Berkeley, 1st Baron FitzHardinge in 1834. The album contains several charming drawings of servants by her and suggests she was a keen observer of her household. Her work has a whimsical quality and a flickering line.
Another talented amateur artist whose work is represented in Augusta's album was her friend Lady Jane Pleydell-Bouverie (1819-1903), the daughter of the 3rd Earl of Radnor and the wife of William Ellice (1816-1892), whom she married in 1847. She was a childhood friend of Princess Victoria with whom she was taken to play aged six and told by the young princess that she could not play with her toys nor was she to address her by her christian name. However the ice thawed: she was one the Queen's bridesmaids, the last survivor of the group, and recorded her memories of the occasion in the Cornhill Magazine of June 1897. The Royal Collection owns a portrait of her after John Hayter.
One of the drawings by Lady Jane is an interior of Ampney Park, Gloucestershire, a late 16th century house. The large room on the south-west corner of the ground floor is a complete Jacobean survival with oak panelled walls with strapwork pilasters, elaborate plaster ceiling with pendant bosses, and a very large carved stone fireplace and overmantel with the figures and arms of the Pleydell family, the original owners of house until 1724.
Two soft ground etchings by Amelia Long, Lady Farnborough (1772-1837) of Woodchester Park, Gloucestershire, were included in the album. The eldest daughter of Sir Abraham Hume, the connoisseur, Amelia married Charles Long (1761-1838) in 1793. He was knighted in 1820 and created Baron Farnborough in 1826. The couple were both etchers and patrons of the arts, most notably of Thomas Girtin.  Lady Farnborough was Girtin's favourite pupil and may have also been taught by John Varley. The gardens at Woodchester Park were remodeled by Humphry Repton for Lord Ducie and are currently being restored by the National Trust.
The album included drawings by several other accomplished female hands including a view of Bibury churchyard by Catherine Howman, (b. circa 1833) the only daughter of George Ernest Howman, the Rector of nearby Barnsley who lived with her father in the Rectory. On 21 January 1864 she was married in her father's church to the Reverend Charles Berners Penrice of Plumstead, Norfolk. Other names in the album, as yet untraced, include Miss Emma Hill and the very talented Miss Selby.
There are significant opportunities for collectors to buy the work of 'lady amateurs' at reasonable prices and it is an area of growing interest, as we become ever more aware of the extent and quality of the long-neglected work of women artists.