Europe Divided: Huguenot Refugee Art & Culture, at Koopman Rare Art
Written by Tessa Murdoch | 03 December 2021
Koopman Rare Art, the internationally renowned London antique silver and jewellery dealer, herald their first exhibition as part of London Art Week by hosting the launch of a new book by the celebrated art historian Dr Tessa Murdoch entitled Europe Divided: Huguenot Refugee Art & Culture.
In this lavishly illustrated book from V&A Publishing, Tessa Murdoch examines the important artistic contribution made by thousands of Huguenot refugees who fled persecution of the Protestants in France.
The influence and expertise of these artisans were especially strong in the goldsmiths craft. Many leading masters were of Huguenot origin including luminaries such as Paul de Lamerie, Pierre Platel, Louis Mettayer and Paul Crespin to name but a few.
Indeed it was a pair of antique silver candlesticks, in particular which sparked Tessa Murdoch's interest in this fascinating subject.
Tessa explains: "As a child, I associated special family occasions with these silver candlesticks which graced the dining table in my grandmother's Georgian home in Berkshire. When I was sufficiently tall enough to reach across it became my task to put the candles in place. The candlesticks were made by my maternal grandfather's Huguenot ancestor, the goldsmith Edward Feline (c.1695 - died in 1753).
"I was intrigued by the name's association with cats and by the story of Huguenot refugees. My grandfather was proud of his French roots and became a director of the French Hospital in 1929. This charity, still known by the Huguenot community as La Providence, was endorsed by Royal Charter signed by George I in 1718 and re-established in 1958 in Rochester, Kent. There it still provides housing for residents of Huguenot descent.
"A family interest in art led me to study English Literature and Art History at University College London, where many of my classes, given by inspired lecturers, were held in London museums and galleries. I opted to do a Ph.D and had hoped to focus on the sculptor Louis François Roubiliac, but was encouraged to investigate the reason that so many French artists and craftsmen were working in London during the late 17th and 18th centuries. Then I remembered those candlesticks by the silversmith Edward Feline.
"So who was my ancestor Edward Feline? I discovered that he was the son of a Huguenot tailor Peter Fellen, who was established in the parish of St Martin in the Fields. The young Edward was apprenticed to goldsmith Augustin Courtauld in 1709 and joined his master's household in Church Court adjacent to that parish church. Courtauld had completed his own apprenticeship with Simon Pantin, another Huguenot goldsmith from Rouen, and registered his first sponsor's mark at Goldsmiths' Hall in 1708, the year in which he married Anne Ribouleau. In 1709 the Courtaulds' first born Anne arrived; followed eleven years later by her younger brother Samuel. Anne married John Jacob, a goldsmith from Metz; Samuel married Louisa Perina Ogier, daughter of a Spitalfields silk merchant. In 1720 Edward Feline married Renée Barbut at the Huguenot Chapel in West Street and registered his own sponsor's mark from an address in Rose Street, Covent Garden.
"Whilst studying Baroque architecture I vividly recall a visit to Christ Church Spitalfields by Nicholas Hawksmoor, only to later discover that was where Edward Feline married for the second time in 1731, Magdalen Montier, daughter of a Huguenot baker. After Edward's death in 1753 Magdalen continued his business, and went onto register her own mark as a goldsmith."
Tessa's interest in Huguenot silver continued when she became a museum curator at the Museum of London from 1981 and the V&A from 1990. As lead curator for the Sacred Silver and Stained Glass Galleries, which opened in 2005, there was further opportunity to weave in her interest in Huguenot silver. Those Galleries include the altar silver for the chapel of the Asylum for Female Orphans marked by Abraham Portal, apprentice to Paul de Lamerie. There is also the communion cup and paten given in 1727 by Viscountess Scarsdale for the use of the Chaplain at the new hospital at St George's (then at Hyde Park Corner, on loan to the V&A from St George's Hospital, Tooting). Tessa recounts: "Coincidentally on examining the cup and paten, I subsequently discovered that they were marked by none other than my ancestor the goldsmith Edward Feline".
In 2008 Tessa became responsible for the redisplay of the Rosalinde and Arthur Gilbert Collection, which was moved from Somerset House to the V&A, and is rich in Huguenot silver and miniatures. This provided another exciting opportunity for research and to make occasional acquisitions. Edward Feline resurfaced a few years later, when in 2014 Tessa, together with Dr Heike Zech, the then Curator of the Gilbert Collection, visited TEFAF Maastricht. On Koopman Rare Art's stand was a masterpiece by Edward Feline, a magnificent lidded soup tureen with a finial formed as a royal lion crest and the handles as the royal supporters, the lion and the unicorn. This remarkable piece was a royal Christening gift from George II to Emily, younger daughter of the 2nd Duke of Richmond. Records show that it was supplied in 1731. With the approval of Chairman of the Gilbert Trust, this outstanding tureen was acquired for the collection. Tessa said: "Needless to say it was absolutely thrilling to acquire a masterpiece by my maternal ancestor for display in the V&A's Gilbert Galleries."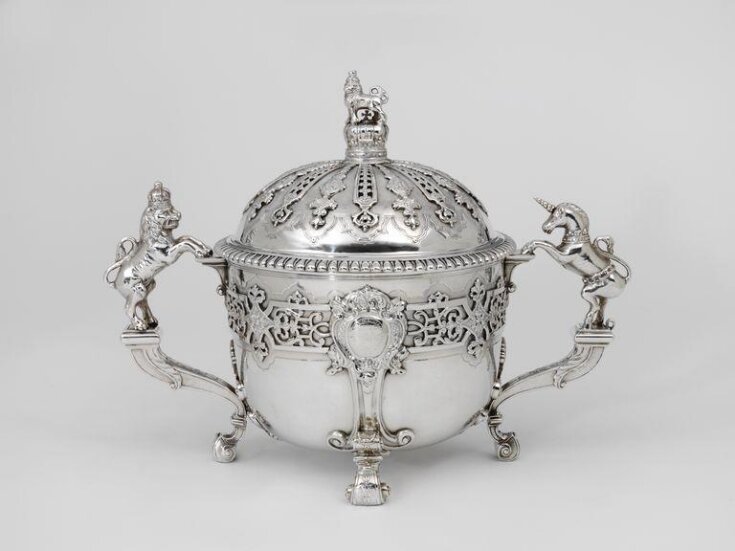 Visitors to Koopman Rare Art during London Art Week will be able to examine a magnificent silver punch bowl made by the very same Edward Feline. Known as the Bolingbroke punch bowl, this imposing work of art, almost a sphere in shape, provides the perfect canvas for the lively engraved decoration, together with an extravagant cartouche that encloses the coat-of-arms of Henry St. John (1678-1751), 1st Viscount Bolingbroke.
Koopman Rare Art is showing many examples of superlative silver by several of the goldsmiths mentioned in Tessa Murdoch's book, notably Paul de Lamerie (1688 - 1751), often considered to be one of the greatest silversmiths of the 18th century. De Lamerie arrived in England with his Huguenot parents in or before 1689. In 1703 he was apprenticed to the Huguenot goldsmith Pierre Platel, and after being admitted to the freedom of the Goldsmiths' Company, registered his first mark and set up a workshop in Windmill Street, Soho, in 1712. De Lamerie was appointed goldsmith to George I in 1716 and thereafter was referred to as 'the King's Silversmith'. From the very outset he attracted wealthy clients, which included not only British aristocrats but also European nobility and royalty. A gradual expansion of his business culminated in his move in 1739 to considerably larger premises in Gerrard Street. Paul de Lamerie's early work tends to be quite restrained following classical French models, but later his work became increasingly exuberant and richly decorated, more typical of the Rococo style.
Less well known than de Lamerie, but his equal in terms of skill and artistry, was Nicholas Sprimont (1716-1771) born in Liège, who after completing his training, emigrated to London, married into the Huguenot community and registered his mark with the Worshipful Company of Goldsmiths on 25 January 1742/3. Interestingly Sprimont then transferred his artistic skills from silver to porcelain, establishing the Chelsea Porcelain Factory (q.v.) in around 1744, initially in partnership with the jeweller Charles Gouyn. Tessa's new book includes previously unknown documentation for Sprimont.
An important pair of candlesticks by Sprimont, bearing the date letter for 1742, from Koopman Rare Art will also be presented during London Art Week, alongside pieces by another Huguenot goldsmith, Peter Archambo (1699 - 1767). Archambo himself was apprenticed to the Huguenot goldsmith Jacob Margas, and registered his first mark in 1720. Along with Paul Crespin and Paul de Lamerie, Archambo's work is notable for its French style and sculptural quality.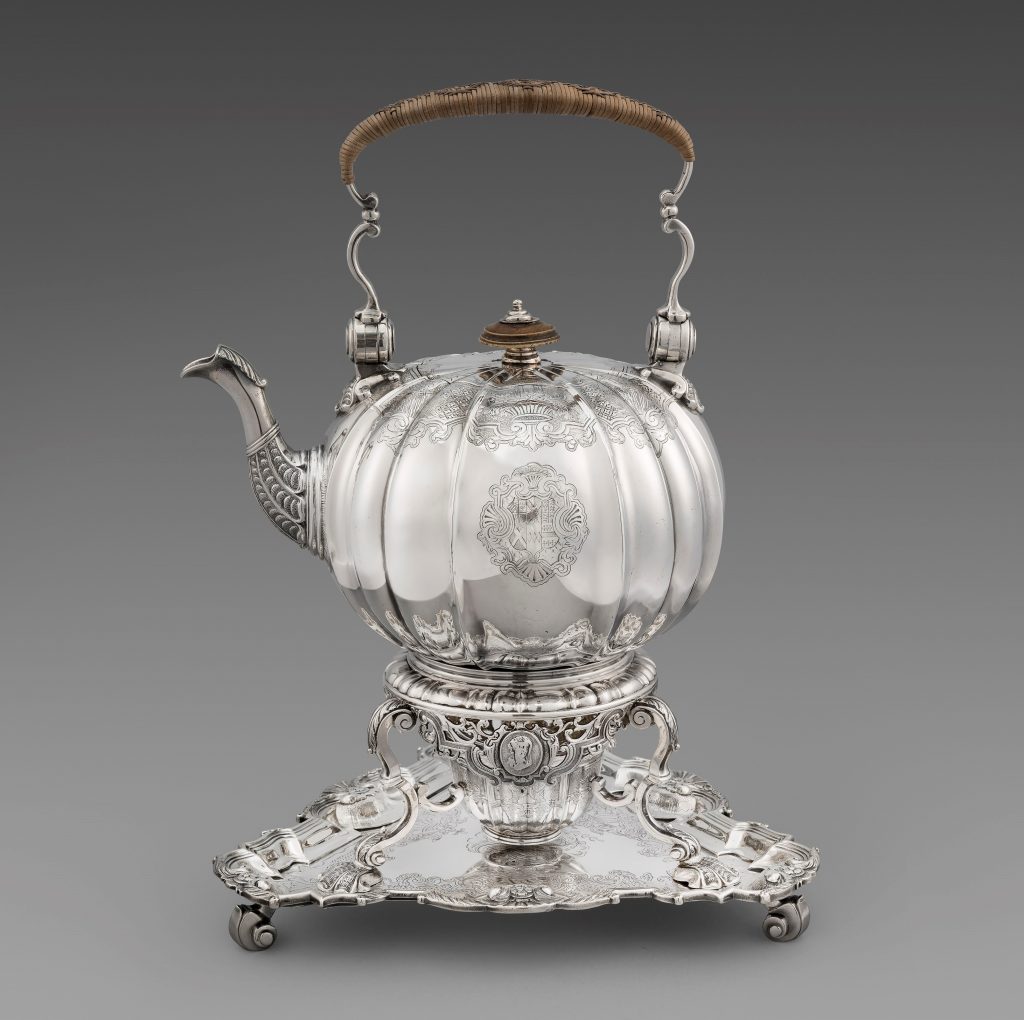 Europe Divided: Huguenot Refugee Art & Culture eloquently demonstrates how the Huguenots' interdisciplinary skills made such an important contribution not just to silver, but also to architecture, painting, art education, furniture, sculpture, ceramics, jewellery and portraiture.
For Tessa Murdoch, however the starting point for this incredible journey remains the much beloved pair of silver candlesticks by her Huguenot silversmith ancestor Edward Feline.
Tessa concludes: "In researching my book I have consulted widely with friends and colleagues and benefitted hugely from these discussions. I hope that the resulting book will inspire present and future scholars and collectors to research other Huguenot artists and craftsmen whose work deserves to be better known. I am constantly encouraged by the wide level of interest that this subject continues to command."
Aside from a long and distinguished career at the V&A Museum, Tessa has been fortunate to have benefited from residencies at the Getty 'Pink Palace' in Brentwood, Los Angeles, with four months at the Getty Research Institute followed by a further four months in residence in the Flint House at Waddesdon. Tessa Murdoch is now an independent scholar.
Tessa Murdoch's enlightening book will be viewable at Koopman Rare Art during London Art Week. The publication is available to pre-order and will be distributed widely in January 2022.