Dealers in Conversation
Monday 30 November, 16.30 (GMT)
With an introduction from Franz Ihm, Director of Tectus Insurance and London Art Week Sponsor, Jorge Coll is talking to Andreas Pampoulides about their careers in the art world. While Jorge is the son of a Spanish art dealer, who set up on his own and is now the CEO of Colnaghi, one of the oldest commercial art galleries in the world, Andreas joined the art world after his studies when he started working for Christie's before working for Colnaghi and then setting up on his own. With their wide interest in art, expect a look behind the scenes of their galleries and thoughtful reflections on the Old and New Masters market with some priceless art anecdotes to illustrate the joys and tribulations of dealing in the global market.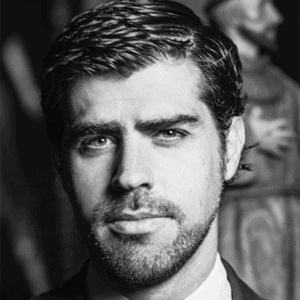 Jorge Coll worked in the family gallery for four years after his studies before setting up a gallery in partnership in 2005 based in Madrid. In 2012 the gallery also opened in London's Mayfair district and in October 2015, it merged with Colnaghi. Colnaghi now has galleries in London, New York and Madrid and he was instrumental in establishing the Colnaghi Foundation, a not-for-profit organisation aiming to promote historic art to a 21st-century audience.
Andreas Pampoulides set up Lullo Pampoulides in 2016 together with his long-time friend Andrea Lullo. He began his career in the European sculpture department at Christie's where he remained for 13 years before joining Coll & Cortes/ Colnaghi galleries as a director and then setting up in a gallery in Mayfair.
Our sponsors, Tectus Insurance, will introduce this new series of conversations. Tectus have a new, unique concept for private collectors, dealers, musicians, galleries and museums to create a product that is more simple and flexible than any other, presently on the market.