Charleston's Famous Women Dinner Service
Written by Silke Lohmann | 18 October 2021
In 1932, Kenneth Clark, at that point newly appointed director at the Ashmolean in Oxford and already making a name for himself as an art historian, commissioned a dinner service, hand-decorated by Vanessa Bell and Duncan Grant. The Famous Women Dinner Service is a collection of 50 plates celebrating famous women throughout history.
Vanessa and Duncan painted it at Charleston from 1932 to 1934 and the final two depict the artists themselves, making Duncan Grant the only man in the series. After this, the plates disappeared from public view and their whereabouts were unknown until very recently.
They are believed to have been given to Clark's second wife Nolwen de Janze Rice on their marriage in 1977 and seem to have come up at auction in Germany in the late 1980s making their way back to the UK before they were acquired by Piano Nobile gallery, London in 2016. The Famous Women Dinner Service was purchased by The Charleston Trust with the support of Piano Nobile gallery and generous grants from the Heritage Lottery Memorial Fund and Art Fund, as well as donations from a circle of remarkable women.
Piano Nobile's Matthew Travers said about his astonishment when he was approached by a client wanting to sell them: "What was so exciting is that they were all there and in perfect condition. It's so easy with ceramics that one or two could have got broken or lost. And no one knew if they had been sold in Germany as a group or individually-they could have been totally scattered."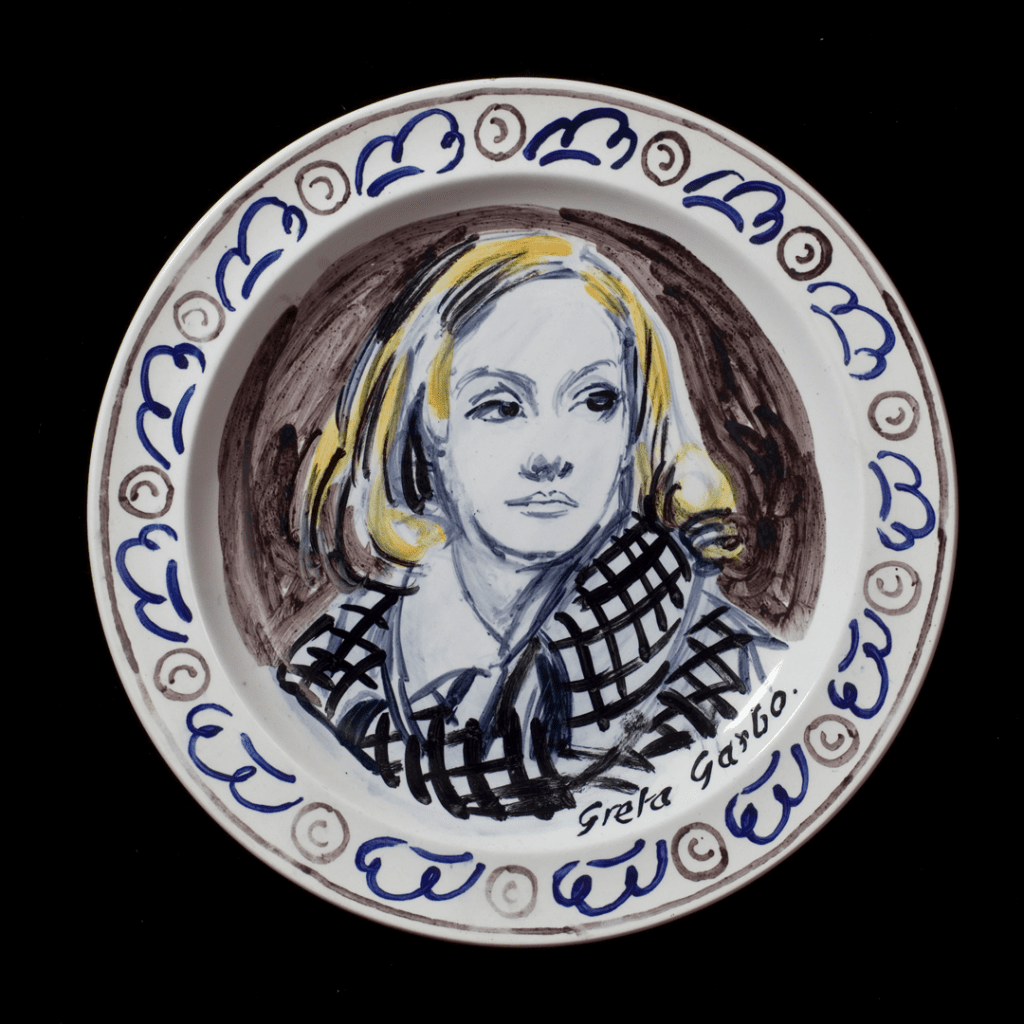 The 50 plates can certainly be seen as a groundbreaking work for feminist art by the famously Bohemian Bloomsbury Group. The subjects range from Hollywood star Greta Garbo to the Queen of Sheba to Marian Bergeron, who in 1933 became the youngest-ever Miss America at age 15. Grant and Bell created a bold feminist statement, featuring 12 dancers and actresses, 12 writers, 12 beauties, and 12 queens, each surrounded by bold patterned borders.
Kenneth Clark may have been surprised, expecting a more 'traditional' Bloomsbury or Omega workshop look, but his wife Jane was quite involved in the creation, corresponding regularly with Bell about the work's progress.
The portraits are painted on plain white Wedgwood plates, selected after a personal tour of the company factory with the owner, Josiah Wedgwood and thought to have been used occasionally for dinner parties-with extreme care-at the Clark home. By the time the plates would have been delivered, Kenneth Clark had been made the director of the National Gallery (since 1933), the youngest ever.
Women depicted on the plates include George Eliot, Charlotte Brontë, 10th-century Japanese poet Murasaki, Greek poet Sappho and Elizabeth Barrett Browning (pictured with her spaniel Flush); Egypt's Cleopatra and Elizabeth I; Dante's Beatrice and the pre-Raphaelite Elizabeth Siddal; Russian ballerina Anna Pavlova and the actress Ellen Terry. Virginia Woolf, Vanessa's sister also made it onto a plate, but did Lydia Lopokova, Maynard Keynes' wife and famous Russian dancer make it?
To get the best likeness Bell, the great-niece of photographer Julia Margaret Cameron, also used photographs, including one by Cameron of Ellen Terry.
"There's an African, there's a Native American, there's a Japanese poet; it was a diverse group of remarkable women (...).

They were obviously thinking outside of the Western box, and were very forward-thinking for that period."

Matthew Travers
Many of these women lead complex and scrutinised lives, resisting marriage in favour of unconventional domestic arrangements and individual freedom. Across the collection, the women crafted identities that subverted social mores, using stage names and pseudonyms to join professional ranks or express alternative sexual identities.
For Bell, it was "an illustration of women in different capacities" and a reflection of Bloomsbury's new sexual politics. Hana Leaper, who has catalogued the plates since their rediscovery, considers The Famous Women Dinner Service a joyful sorority: "These women might not have known one another and they might not have lived in the same epoch, but there's an overlapping strength of character."
Although Charleston was originally just meant to be a hub to escape war-torn London, it remained the home of Vanessa and Duncan until the end of their lives. After Bell died in 1961, and Grant in 1978, a trust was formed to restore and preserve their historic property. It has been open to the public since 1986, and recognized as an accredited museum since 2013.
To discover more visit Charleston Trust's website.