Black Presence in Portraiture
Written by Silke Lohmann | 22 October 2021
Agnews
This charcoal drawing can be dated to c.1912-1913, and depicts one of the artist's first black models, identified only as 'Billy' in another drawing exhibited at the Modern Society of Portrait Painters in 1913, where it was shown alongside a small bust-length painting of the same sitter, now in a private collection. Both the drawing and the painting of 'Billy' - the first in a long series of depictions of black men by Philpot - were purchased at the exhibition by the politician and art collector Sir Philip Sassoon.
A powerful charcoal figure drawing of a standing male nude of c.1913, today in a private collection, may also depict the same model. 'Billy', the sitter of this drawing, reappears in Philpot's large painting The Watcher on the Roof (also known as The Morning Prayer or The Prayer on the Roof) of 1913, which was acquired, the same year that it was painted, by the National Gallery of Canada in Ottawa. The present sheet may, in fact, have been intended as a preparatory study for the Ottawa painting. The present drawing has been requested for an exhibition of Glyn Philpot to be held at Pallant House Gallery in 2022 and accompanied by a new monograph to be published by Yale University Press.
Philip Mould & Company
John's portraits are famed for their profound psychological impact, of which the present work is a poignant example. John visited Jamaica in 1937, and his stay coincided with the early stages of serious revolts against poor wages and working conditions. Upon arrival, John was initially mistaken for a British politician, but he soon immersed himself within the community and painted many of the individuals that he met.
Elliott Fine Art
This watercolour depicting the remarkable Pierre Louis Alexander was executed by Nils Larsson in 1896 during a life class at the Royal Swedish Academy of Fine Arts in Stockholm. In fine condition, the watercolour is a rare example of an academic study from late 19th-century Europe in which the identity of a black model is known.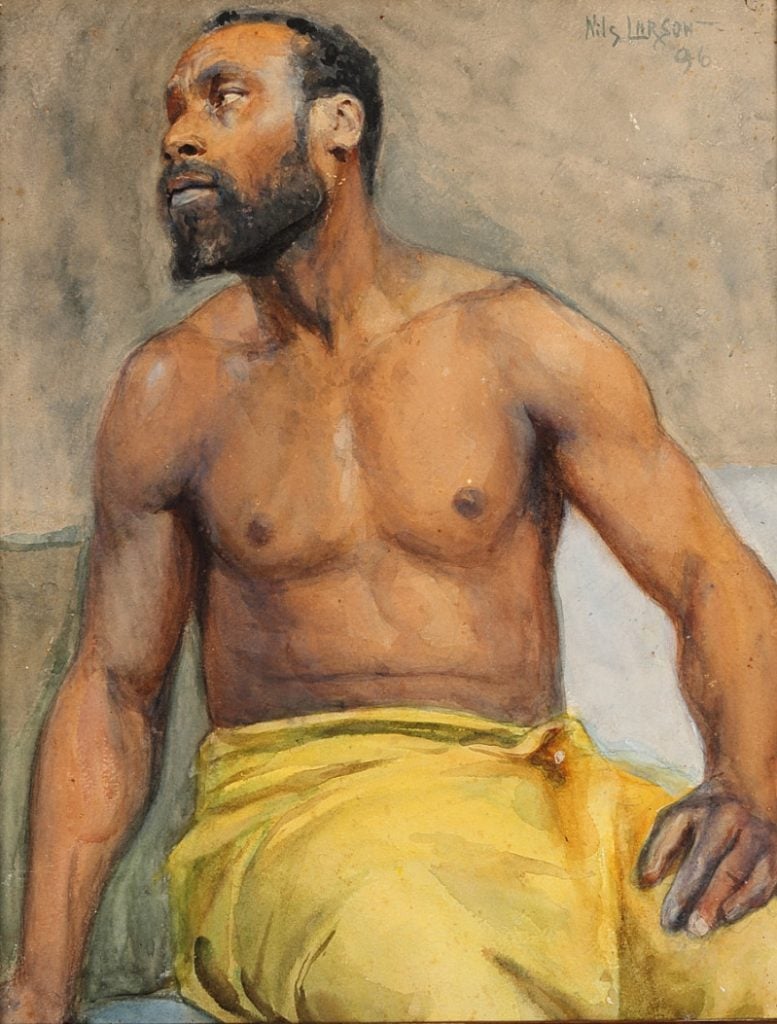 Pierre Louis Alexander had an eventful life. Born in French Guiana in 1843 or 1844, likely into slavery, he arrived in Stockholm in 1863, probably as a stowaway on an American ship with a cargo of pork. In the late 19th century the Atlantic crossing would have taken two to three weeks in good conditions and up to two to three months in inclement weather, giving some indication as to of Pierre's determination and resourcefulness.
On arrival, Pierre found employment as a dock labourer in Stockholm's harbour, though this was seasonal work, as the docks froze over from November to April. To survive over the winter period, Pierre found work as a model at the Academy of Fine Arts. The first depiction of Pierre dates to 1878 and the last to 1903. In total, there are about forty extant works in which he is the model, a remarkable body of work taken as a whole. He is therefore very likely the black sitter pre-1900 of whom we have the most images.
In the archival sources, Pierre appears with the Swedish surnames of 'Pettersson' and 'Alexandersson'. He seems to have married twice, having two children with his first wife, and living at several different addresses over the years in Södermalm in Stockholm, before dying in 1905 of tuberculosis. Unlike in Britain or France for example, the black presence in Sweden in the late 19th century would have been negligible, so Pierre would certainly have stood out and seems to have been a well-known figure at the docks, depicted by the caricaturist Albert Engström for example in the early 1890s.
Stephen Ongpin Fine Art
Despite being a successful and highly regarded artist, Nolde found himself, at the age of seventy, crushed by the Nazi party's official condemnation of modernism in art. In 1937 he was declared a 'degenerate' artist by the Nazis, and nearly fifty of his works were included in the Entartete Kunst ('Degenerate Art') exhibition held that year. More than a thousand of his works - more than those of any other artist - were confiscated from museums and private collections, as well as from his studio, and many of his paintings and drawings were destroyed. In 1941 he was expelled from the Reichskunstkammer (the Reich Chamber of Art), and was forbidden to paint, even in private; he was also prohibited from exhibiting or selling his work. As a result, Nolde turned towards working on paper, producing a large number of small watercolours and gouaches that he referred to as his 'unpainted pictures'.
Nolde produced watercolours almost continuously from around 1908 onwards, and the medium would come to dominate his output over oil paintings. This large watercolour was drawn in New Guinea in the early months of 1914. Nolde and his wife Ada visited the island - the southeastern part of which was, at the time, Germany's main colonial territory in the Pacific - in 1913-1914 as part of a scientific expedition organized and funded by the German government.
Nolde scholar, Jill Lloyd, has written of this period, "Like most Expressionists, Nolde displayed a growing interest in the art of non-European cultures during this period... In New Guinea, he painted large, luminous watercolours of native heads, as well as a series of oil paintings... In 1916, the German Colonial Office bought 50 of Nolde's watercolours as a demographic record, despite their stylistic boldness and Nolde's Romantic response to the New Guinea peoples."
Many of the works he made in New Guinea were confiscated on his journey back to Germany, when war broke out, and were only recovered by the artist from a warehouse in England in 1921.
The watercolour portraits and head studies that Nolde produced in New Guinea are invariably frontal images that are direct and reflect the artist's personal encounter with the subject. While there, Nolde also developed a watercolour technique of translucent layer of colour over outline drawings in pen or brushed ink. The present sheet, previously unpublished, is a particularly fine example of his head studies of native subjects of this period.
While in Cambridge...
Concurrently, our partner museum The Fitzwilliam in Cambridge is currently showing a set of etchings by British figurative artist, Lynette Yiadom-Boakye (b. 1977).
A new case display in the Dutch Gallery presents a selection from the new acquisition, First Flight (2015). The black, male heads set against blank backgrounds are not portraits but fictional composites based on collections of found images, such as photographs, and the artist's own memories and imagination.
This display encourages us to ask:

What is history?"

Who should be remembered and how?
Lynette Yiadom-Boakye's work challenges the restrictive, aggrandizing themes of the European portrait tradition by destabilising sitters' identities and removing indications of place and time. Instead, her enigmatic, invented heads make room for multiple interpretations and projections.
The questions of representation and memorialisation that are raised by Lynette Yiadom-Boakye's work are brought into focus by placing it in dialogue with examples of portraiture, by Anthony van Dyck and Rembrandt van Rijn, from The Fitzwilliam Museum's remarkable print collection. This display encourages us to ask, "what is history?"; "who should be remembered and how?"
Learn more by visiting the exhibition Turning Heads: Lynette Yiadom-Boakye - Rembrandt van Rijn - Anthony van Dyck on free display until 20th February 2022.