Demystifying the Old Masters Market
16.00 - 17.00, 5 JULY 2020
'Attributed to', 'in the manner of', 'from the workshop of'...even in the age of information, understanding these terms can seem a difficult and daunting task.
In an effort to demystify the Old Masters market, join ArtTactic and an esteemed panel of market professionals, for our second annual Market Event, where we will discuss modes of authentication and scholarship within the market, the vocabulary used by the trade to establish degrees of authorship, and how this language influences market performance and behaviours.
All attendees will also receive a special London Art Week discount code to ArtTactic's Special Edition: Old Masters Summer Report, for £45 down from £150, available for purchase prior to the event.
Use this special London Art Week discount code: 'LAWEvent2020' to purchase ArtTactic's Special Edition: Old Masters Summer Report, for £45 down from £150, available for purchase prior to the event.
You can access the report here: https://arttactic.com/product/old-master-paintings-market-report-summer-2020/
MODERATOR: Megan Corcoran Locke, Old Master Paintings Research, ArtTactic
Since 2016 Megan has served as the Gallery Manager for Stephen Ongpin Fine Art. The gallery mounts annual exhibitions of Master Drawings, issues regular catalogues, and participates in art fairs in London, Maastricht, Paris and New York. Outside of the gallery, Megan conducts market research on Old Master Paintings for auction data analytics company ArtTactic, working with both dealers and auction houses to expand their Old Masters database and expertise. Megan also works with the London Art Week team as an account manager, helping to develop one of the most prestigious dealer-led events of pre-Contemporary art. Prior to professionally entering the art world, Megan worked in financial services at Barclays Capital, having previously received her bachelor's degree in art history from Harvard University and her master's degree in art business from Sotheby's Institute of Art in London.
David Pollack, Auctioneer & Senior Vice President, Specialist, Old Master Paintings, Sotheby's
David Pollack joined the Old Master Paintings department in 2009 and is responsible for the cataloguing, research and business getting for the two annual Old Master auctions in New York. David maintains a strong client network in the United States and plays a key role in sourcing property for Old Master Paintings sales in New York as well as in Europe. He has extensive experience with the full range of European Old Masters, with a particular focus on the works of Dutch and Flemish artists. Additionally, David is a licensed auctioneer. He received his Bachelor of Arts degree in Art History from Colgate University.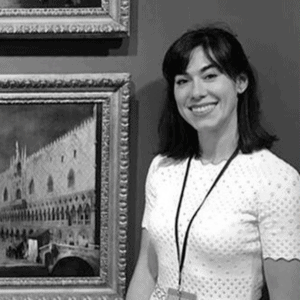 Dr. Molly Dorkin, Associate Director, Old Masters and Head of Research, Simon C Dickinson, Ltd.
Molly Dorkin worked as a specialist in Old Master Paintings at Christie's before joining Dickinson in 2013, where she works closely with the Old Masters Department and oversees all scholarly research. Molly holds degrees in art history from Harvard and the Courtauld, as well as PhD from the University of Cambridge.
William Elliott, Founder & Director, Elliott Fine Art
After completing studies at the Sorbonne and at the Courtauld Institute of Art, Will Elliott joined the Sotheby's Old Master Department, before becoming London Director of Colnaghi. Will has specialist knowledge in Old Master through to Early Modern Paintings and Drawings, and has handled several significant works in these areas, making sales to leading international institutions. Elliott Fine Art sources the finest artworks of their type, both in terms of quality and historical interest. We keep a select stock of master paintings and drawings, and are able to source artworks to a particular brief.