Art Against Slavery: The Captured Runaway (1856) by William Gale
Depicting an enslaved fugitive and her captor, a north American bounty-hunter, the painting by the white British artist William Gale (1823 - 1909) is a pictorial contribution to the Anti-Slavery emancipation campaign that preceded the US Civil War.  At today's distance from the 1850s, it is not an easy picture to understand. One approach is to see it combining a political-moral message with the Victorian tradition of the 'problem picture' that invited viewers to decode visual clues.
***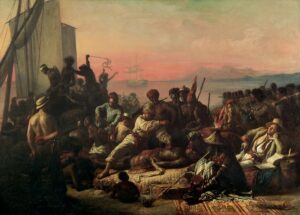 In the wake of a major 'slave revolt' and with the new Reform parliament of the 1830s, Abolitionist campaigning finally secured emancipation for enslaved people in British colonies - and then only by 'compensating' slave owners with a total of £20million. This marked the end of a 50-year campaign. Instead of disbanding, the Abolitionist movement rebranded itself internationally, turning attention to the United States, where slave labour sustained exports of cotton and tobacco. A World Convention, forerunner of global summits, with delegates from many organisations and churches, was held in 1840, in London. To coincide with this, the dramatic painting The Slave Trade by Francois-Auguste Biard, shown in Paris in 1835 as 'Bartering for Slaves on the Guinea Coast' was brought to Britain, where it was the stand-out picture at the 1840 Royal Academy.
'God bless you, Monsieur Biard, for painting it!' wrote W. M. Thackeray. 'It stirs the heart more than a hundred thousand tracts, reports or sermons; it must convert every man who has seen it.'(1) Another critic declared that the artist 'places himself in the ranks of Clarkson, Wilberforce and Brougham' [Abolitionist politicians] in arousing 'a virtuous indignation against the cruelties inflicted upon our fellow-men in this accursed traffic'(2). This response chimed with the known anti-slavery views of the young Queen and her new husband.
Doyen of the Academy, J. M. W. Turner was not to be eclipsed. He promptly transformed one of his trademark seascapes into a competing picture, complete with a tempest-tossed ship and a title referencing a notorious incident from the past, in 'Slavers throwing overboard the dead and dying, typhoon coming on'. (RA 1840)
By this date, Britain having transformed itself from foremost slaving nation to self-congratulatory leadership of emancipation, anti-slavery became an issue of patriotism. This was augmented by enslaved Americans fleeing over the frontier to sanctuary in Canada, where they felt protected by the British crown. Clandestine movement north along the route of safe houses known as the 'Underground Railroad' became a growing form of resistance.
Pushback came with the US Fugitive Slave legislation of 1850, penalising those who assisted escapees and awarding bounty payments for their recapture. Slave-owners, white supremacists and opportunist hunters responded with adverts for 'runaways', pursuit deploying bloodhounds and violent seizure of African Americans. Thousands nonetheless succeeded in reaching safety. To rouse indignation and support - comparable to the anti-apartheid campaign to free Nelson Mandela a century later - several 'fugitives' travelled to Britain, including Frederick Douglas, a major orator and organiser; married couple Ellen and William Craft, who escaped to Boston by travelling as a young white invalid (Ellen being fair-skinned) and his personal servant; and resourceful individuals like Henry Brown, who hid in a trunk or box sent from South to North.
These campaigners highlighted issues, including the injustice of recapture and the prohibitions on slave literacy and religious worship. An additional, sometimes implicit, argument lay in the fact that many enslaved Americans had 'white' forbears and consequently paler faces, which triggered especial indignation among some Europeans, resulting in an Abolitionist strand regarding the 'tragic mulatto' of mixed ancestry.
The strongest weapon in the Abolitionist armoury proved the anti-slavery novel Uncle Tom's Cabin (1852) written by Harriet Beecher Stowe. Within a few months the whole British public was aware of Stowe's tales of the stoical, saintly Tom, his wife aunt Chloe, mischievous Topsy, and heroic Eliza, who escapes across the Ohio River and finally reaches Canada. Today, the novel's mix of sanctimonious polemic and melodrama is not admired, but it has claims to be the most-read Victorian book after the Bible.
It provides the context for many anti-slavery paintings in the mid-century, a period when visual art shared its cultural platform with poetry, drama and public debate. This was in keeping with the 'problem picture' genre of the time when issues of social concern such as poverty, prostitution and abuse of power were depicted on canvases like G. F. Watts Irish Famine (1850), Rossetti's Found (begun 1854) and in sculptures such as Harriet Hosmer's Zenobia in Chains (1859).
William Gale's Captured Runaway (1856) is a contribution to this genre. Conceived as the artist's submission for the Royal Academy summer show 1856 (#560), it followed the publication of Frederick Douglas's second book My Bondage and My Freedom (1855) which included recent speeches including this extract:
'The fugitive slave bill has especially been of positive service to the anti-slavery movement. It has illustrated before all the people the horrible character of slavery toward the slave, in hunting him down in a free state and tearing him away from wife and children, thus setting its claims higher than marriage or parental claims. It has revealed the arrogant and overbearing spirit of the slave states towards the free states; despising their principles, shocking their feelings of humanity, not only by bringing before them the abominations of slavery, but by attempting to make them parties to the crime. It has called into exercise among the colored people, the hunted ones, a spirit of manly resistance well calculated to surround them with a bulwark of sympathy and respect hitherto unknown. For men are always disposed to respect and defend rights, when the victims of oppression stand up manfully for themselves.'(3)
The painting shows a bounty-hunter dozing in a log-cabin, dressed in the style ascribed to a north American frontiersman. Handcuffs on his right wrist link him to the young woman on the cabin's earthen floor, whose striped dress, thin shawl and red headscarf identify her with enslaved workers on a Southern plantation. Her expression of fear and supplication conveys the classic iconography of desire for salvation, typically seen in European paintings of female martyrs. The strong light from an unseen lamp blanches her face, but scarf and costume are plainly those of an enslaved mulatta or mixed heritage figure, such as Ellen Craft represented.
Compositionally, the figures are held within a compact space, with shallow visual depth - the cabin wall pushes hunter, captive, table and dog towards the viewer like a cinematic mid-shot. The illumination is theatrical, the colours vivid and the brushwork accomplished, if conventional. Although illusionist, the work is fictive rather than realist, owing more to narrative than observation.
Concept and details are derived from published sources. William Gale did not visit America, but he was a well-trained, professional artist with a prolific output geared towards sales, encompassing various popular subjects including scenes from literature, Italian peasant life, fancy heads and biblical episodes. In the 1850s, American slavery was a highly topical subject, that could command attention from art critics and viewers. Technically, the high finish, strong chiaroscuro and meticulous detailing of The Captured Runaway were designed to attract the mid-Victorian public, together with the dramatic episode and emotional appeal.
It offers the pictorial equivalent of a cliff-hanging moment in an adventure narrative: how can the captive escape? Can she escape? The scene is against her: beneath the table is a mastiff, which can chase her through woods and fields; on the cabin wall hangs a hunting musket; on the table lies a compass - indicating the direction of her flight - and a hunting knife, together with a handbill offering a $500 reward for her capture, thus making the storyline entirely clear. The apparent mis-spelling of 'runaway' reproduces a documentary source, a much-reproduced notice issued in St Louis in 1847, describing fugitives as having 'runaway from the subscriber', who would give $200 for the return of his property.
The whole mise-en-scene of the painting thus functions like a staged episode, with the viewer invited to empathise with the distress of the young captive. Perhaps, too, a further dimension is hinted at in the pictorial relation of the chained woman and bounty hunter together in a remote hut, for she is also at his mercy in terms of sexual assault. What will happen when he wakes? Gale leaves the future open for the viewer to imagine, in narrative terms, but it does not look like a happy one. While the recaptured fugitive image simply protests against the law, the details of Gale's rendition raise imaginative interpretations - thus blending the political message with the story-telling of the typical Victorian 'problem picture'. It is not a simple painting to discuss, but its context and complexities are worth exploring.
Both subject and selected accessories position the picture as the product of 'white' culture, most notably in the presentation of the fugitive as young, pretty and fair, in a posture of helplessness and pathos. She resembles contemporary images of early Christian saints, thus obliquely evoking the religious aspects of Abolitionist campaigning. At the same time, it is like an image in an illustrated magazine, or a theatrical performance. If this were an adventure movie, the next scene would show a heroic white Abolitionist riding to the rescue through snowy woods. In this way the viewer and his kin are placed in sympathetic response to her plight - and that of her enslaved compatriots, awaiting emancipation. To this extent, although liberal, The Captured Runaway is the product of a racist society, that viewed those of African ancestry as unequal.
It is likely that Gale aimed to appeal to British Abolitionists, and hoped his painting would be used in anti-slavery meetings, and be reproduced in engravings to raise support and funds for the cause as well as a fee for himself. To discover the later history of The Captured Runaway will involve further research that ought to appeal to scholars of the period.
© JAN MARSH October 2020
Jan Marsh, formerly with the National Portrait Gallery London, is a writer and curator whose exhibition credits include Black Victorians: Black People in British Art 1800-1900.
Notes:
1. WMT, Fraser's Magazine, June 1840, 731
2. Anon, The Art Union, May 1840, 75
3. Frederick Douglas, My Bondage and My Freedom 1855, 369