Adam Dant, Artist and Cartographer, picks his favourite five works in London Art Week
In 2019, map-maker extraordinaire Adam Dant created a wonderful narrative street view of St. James's and Mayfair for London Art Week. This year we asked him to choose his five favourite works from LAW Digital. You can follow Adam Dant on Instagram @atelier_dant
Joos de Momper, Thuillier
My first job after leaving art school was managing the galleries at Agnews Old Master picture dealers on Old Bond St. They had a magnificent de Momper which was by far their biggest, heaviest and most awkward picture to manoeuvre. The artist's characteristic deep, dramatic landscapes, as well as those of his contemporary and collaborator Brueghel the younger express all the thrill of a journey through the alps from Rome North of vice-versa, drawing the viewer into a near hallucinatory visual experience. Added to such hallucinations de Momper in the re-creation of such tapestry-like, awe-inspiring vistas often fashioned rocks, clouds and shrubbery into quasi-human forms. It became a game to work out which of these hidden, subliminal images were deliberate and which were one's own projection. But still, I dreaded hearing the words ' Please can we re-hang the de Momper'.
Steven Spurrier, House of Commons 1945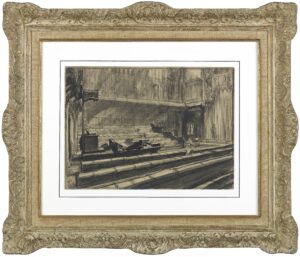 I have quite often made sketches of historic debates and votes from the public gallery in the House of Commons ever since I had the job of being parliament's official General Election Artist in 2015. I was particularly attracted to this pencil drawing of the place by Stephen Spurrier who appears to have rendered it in situ from the Conservative backbenches, somewhere around where Ian Duncan Smith now sits. As it's precise date, 27th July 1945 indicates the picture marks the moment that Clement Atlee formed the post-war Labour government following Churchill's post-election resignation. Both chambers were hit by firebombs in 1941 during the blitz when overstretched fire crews had to decide which to save. They chose the upper chamber and central lobby. Work on rebuilding the  Commons chamber wasn't finished until 1950 so I'm unsure whether the new government would have immediately returned to this place depicted in Spurrier's sketch. The drawing nonetheless, in it's deft 'reportage' style with raking light and hastily delineated architectural detail captures a moment in time between the vicissitudes and struggles of the capital at War and the hopes that relief promised from victory.
Gnomonic Block, Desmet Gallery
Being the house artist/cartographer of London Art Week I feel that a "Gnomonic Block ' is a must, to sit with the rest of my tools on my drawing table. I cannot say that I would consult it in a practical and professional manner very often ( I would not know where to start) but it would serve to remind me of the roots of mapping systems, referring as it does to 'Gnomonic Projection' , one of the earliest forms of map projection as deployed by Thales in the 6th century BC.
Tiepolo, Christie's
In the Art School studio where I studied the illustration professor's copy of the big hardback 'Brazziller- Tiepolo, Punchinello Drawings' was always knocking around the place. For art students learning draw, seeking a personal style, working in series etc this set of deft, enigmatic, humorous and effortlessly light drawings had a lot to offer, from giving everyone the idea to buy a bottle of sepia ink, drawing with a loose wiggly line,  to the simple device of boxing in a scene with a simple linear border.  I don't think our professor ever got his book back.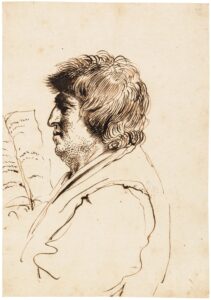 Guercino, Florian Härb & Martin Grässle
Put a surgical mask on this stubbly fellow, swap his book for a copy of the Evening Standard and he could easily be sitting on the Northern Line heading home to Kentish Town. We can feel similar sensations when leafing through books of Guercino's drawings of street characters as we might when we enjoy the exaggerated, grotesque caricatures of our own age by the likes of Ralph Steadman and Ronald Searle, but I have a horrible feeling that Guercino's neighbours really did look like that, sans exaggeration.