Académie Matisse
Written by Harry Gready, Benappi Fine Art | 11 June 2022
There are not many who do not know the name of Henri Matisse, the "wild man" of the avantgarde and possibly the greatest modern art innovator of the 20th century.
However less known is that during his early forties, Matisse taught students for three years between January 1908 and 1911. Even more surprising, within the wider context of art history, is that this group of budding artists were mainly Scandinavians; in fact, more than half the intake over these three years were from Sweden and Norway. Many of these painters would go back to their native countries, having experienced Paris and the fierce critique of Matisse, to partake in the breakthrough of modernism. However, there is a small number that have been completely forgotten by art history, despite their importance and involvement within the development of modern art and that have only till recently been revived from the shadows of time.
Benappi Fine Art's LAW Summer exhibition (on view until 29 July 2022) is focusing on a small selection of works, they have chosen to focus on three artists who all studied under Matisse at his Académie, all with different experiences, at different periods of their careers, and in turn with different standings today within the canon of modern art; Isaac Grünewald, an 18-year-old prodigy and favourite of Matisse, Mollie Faustman, a young female artist, who would go on to be a founding member of the Association of Swedish Artists, creating equal opportunities for women in art, and Alf Lundeby, a 40-year-old artist at the time of entering the Académie and already well established within Norway, whose palette and technique would be permanently changed by his experience in Paris.
Despite some ground-breaking exhibitions within Norway and Sweden, (Marit Werenskiold - De norske Matisselevene 1972, Svein Olav Hoff - Lillehammer and Inspiration Matisse!), there has been only one exhibition on Académie Matisse outside of Scandinavia in the last twenty years. This small selection hopes to bring a little more light to this fascinating subject.
Henri Matisse had originally moved to Paris to study law and it was through the Académie Libere system that he developed as an artist. The Académie Julian was the first to be established, in 1868 (particularly important to female painters, who were not accepted to France's Académie des beaux Artes until 1897). Matisse was admitted as a student in 1891, where he was taught by Gustave Moreau. From here he moved on to the Académie Carière, where he met André Derain and in turn Maurice de Vlamink, two strong influences on his work. It wasn't until 1904, with the support and foresight of the dealer Ambrose Vollard, that Matisse had his first solo show. Then the famous Salon d'Automne in 1905, where Matisse became the figurehead of a group that would be dubbed 'les fauves' (wild beasts).
In the autumn of 1906, Matisse was introduced to Gertrude and Leo Stein, the wealthy American siblings who are well known today for their pioneering taste in collecting during this period, particularly their support for Picasso, Paul Cézanne, Pierre Bonnard and Renoir, to name but a few. Their support would be integral for the establishment of what would become the Académie Matisse. Persuaded by Hans Purrmann, a German painter and great friend of Matisse, and the Steins, it was agreed, as a way to provide Matisse with a regular income and large studio space, that he would create an academy. A fitting space was found in two large halls of an old convent in Paris, Couvent des Oiseaux. The Steins paying for the rental, heating and model costs. Matisse, however, was a particularly reluctant teacher, wanting to focus more on his own work, and for this reason, Hans Purrmann agreed to the day-to-day running of the Académie, as a massier or head student, overseeing classes every weekday morning and liaising between students and Matisse. Matisse would then critique work every Saturday morning.
It was Matisse's critiques that were the most daunting for his students, and he is recorded as being stern and limited with his praise. In 1908 Matisse published his article, Notes d'un peintre, where he articulated his seeming contradiction between freedom and tradition within his artistic practice and explained that his plea for a pursuit of expression, l'expression, could be misinterpreted as a plea for complete freedom in artistic expressions. It was his ability to articulate his artistic ideas so eruditely that would be so influential on his students, even over a short time, opening the eyes of so many. His article, Notes d'un peintre, spread within Nordic circles and along with those first artists that had started at the foundation of the academy, in particular Carl Palme, who enticed many to join the Académie's ranks.
One of the main reasons for this exodus from Sweden and Norway was the gravitational pull of Paris, which had become the centre of the modern art movement, due to ground-breaking works by Matisse and others, but also the lack of opportunities to experience the new ideas of modernism within the academies in Stockholm and Kristiana (today Oslo). In Sweden, the Royal Academy was seen as outdated and redundant in its teaching practices and scholarship programme. The protest towards this was first seen as early as 1885 with the formation of 'the Opponents', a group of 84 artists who had their demands refused by the academy, and later would manifest itself in what became known as Konstnärsforbundet (The Artist's Association). It was here at the Swedish Artist's Association school where the generation of the early 1900s studied under an older generation of well-respected artists, such as Bergh, Jansson, Nils Kreuger and in particular Karl Nordstrom, many of whom had been part of 'the Opponents', and who supported their students when they returned from Paris. The academy, or Konstakademien, would close in 1908, with so many students moving to Paris to study.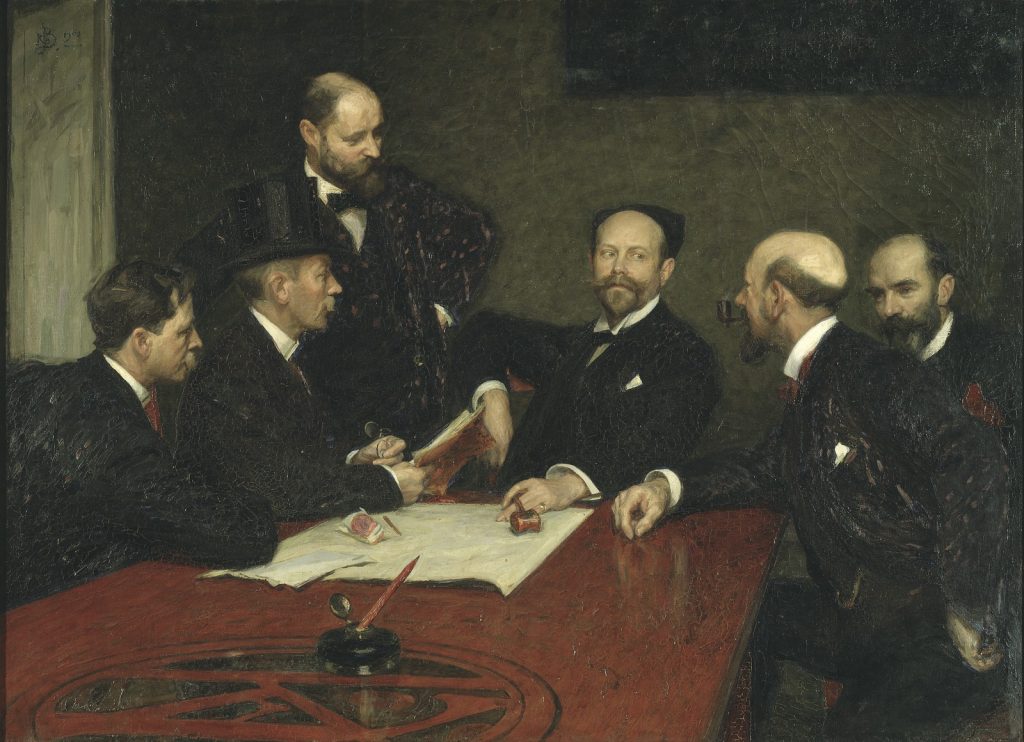 The situation in Norway was slightly different, with the main focus on private schools run by established artists and a Royal Academy not established until 1909. Perhaps the most esteemed school was taught by Harriet Backer, a hugely influential artist from the previous generation, who had visited Paris herself in the late 1870s. However, she would close her mixed classes in Kristiana (Oslo) at the turn of the century, deciding it was inappropriate to have men and women studying together. A strange decision given her own rather bohemian experiences as a young woman. This did not stop her being seen as a forefront of innovation within Norwegian art though, at her first solo show at the age of 67, in January 1907, Henrik Sorenson, one of Matisse's leading students, exclaimed: "There is our Cézanne".
With the focus on three artists from Sweden and Norway respectively, this exhibition does not touch on the situation in Denmark and Finland, with differing opportunities for artists to experience art abroad.
It is also important to make the point that international artists did travel to the Nordic region during this period: it was a two-way street in this sense, and the region should not be seen as separate or distant. With Monet travelling to Norway and staying with Frits Thaulow to paint the ice and snow of a Norwegian winter in 1895 and Paul Gauguin's extended time living in Copenhagen, to highlight just two.